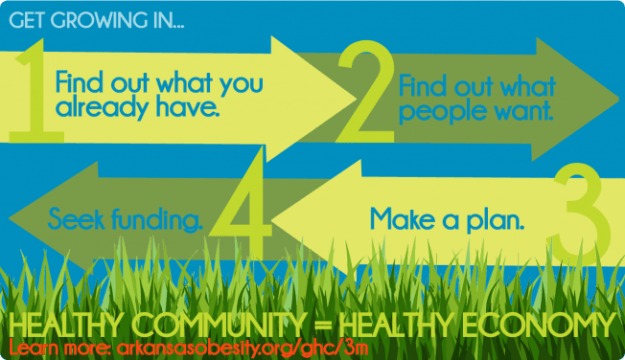 A healthy city is economically sound. If you are already active in addressing healthy places to live, work and play or if you are just starting to grow your healthy community, check out these steps to ensure a healthier future for your city or town.
Step 1: Find out what you already have.
For individual cities to become healthier, we need to find out our local starting point. This data will provide a baseline or measuring point to relate back to in the future. It'll give you an even better answer to "Why should WE prioritize health?" And it's integral when seeking funding.
Arkansas Department of Health County Data Information – ADH provides county data information including data resources and environmental data. ADH's County Health Surveys evaluate personal risk behaviors that may affect the health of Arkansans. There are separate surveys for adults & youth. The County Health Surveys are conducted in cooperation with the Hometown Health Improvement (HHI) initiative.
County Health Rankings – The County Health Rankings show us that where we live matters to our health. The health of a community depends on many different factors – ranging from health behaviors, education and jobs, to quality of health care, to the environment. County Snapshots are available for each county in Arkansas. On this page you can explore the rankings, visit the action center to get guidance, or read and share stories from communities.
Community Commons – Community Commons is an interactive mapping, networking, and learning utility for the broad-based healthy, sustainable, and livable communities' movement. Registered users have free access to impact, communication, and mapping.
Hometown Health Improvement – HHI is a community-driven process that empowers local communities to take ownership of health problems and work to identify and implement solutions that improve the health of the citizens.  It is based around the local public health system that includes all public, private, and voluntary entities that contribute to the delivery of essential public health services within a county.
The State of Obesity – For 11 years, the annual report, The State of Obesity (formerly F as in Fat) has raised awareness about the seriousness of the obesity epidemic, encouraged the creation of a national obesity prevention strategy and highlighted promising approaches for reversing the epidemic at the state and local level. Site includes rates & trends, state briefs, fast facts, and resources.
National Center for Rural Health Works Community Health Needs Assessment Tools & Templates – The National Center for Rural Health Works has provided community health needs assessment for many years.
Step 2: Find out what people want.
Our goal in doing all of this is to improve the quality of life for Arkansans. You, more specifically, are looking to improve the quality of life for the folks in your city and make it more desirable to industry.  Once you have made an assessment, survey your community to find out what their priorities are.
Step 3: Make a plan.
After you have learned what your community members' priorities are, it's time to make a plan on how and when you will implement these projects.
County Health Rankings and Roadmaps has some great planning tools:
Action Center – The Action Cycle is a critical piece of making communities healthier. There is a guide for each step that describes key activities within each step and provides suggested tools, resources, and additional reading. You can start at Assess or enter the cycle at any step. "Work Together" and "Communicate" sit inside because they are needed throughout the Cycle.
What Works for Health – What Works for Health provides communities with information to help select and implement evidence-informed policies, programs, and system changes that will improve the variety of factors we know affect health. Learn more about what works by checking out Community Stories and Community Grants under the Roadmaps tab.
Tools & Resources – includes webinars, videos, press releases, and action steps. You can also look up information by specific health factors and community member roles.
The Guide to Community Preventive Services, also known as The Community Guide, is a free resource for to help you choose programs and policies to improve health and prevent disease in your community.
National Association of County & City Health Officials – NACCHO's Toolbox – a free, online collection of local public health tools produced by members of the public health community. Tools within the Toolbox are materials and resources public health professionals and other external stakeholders can use to inform and improve their work in the promotion and advancement of public health objectives. Current examples of tools include, but are not limited to case examples, presentations, fact sheets, drills, evaluations, protocols, templates, reports, and training materials.
NACCHO's Resource Center for Community Health Assessments and Community Health Improvement Plans – The Resource Center provides practical, customizable tools and resources to all local health departments (LHDs) in a central and publicly accessible location. The resource center is intended to support LHDs and their partners in completing community health improvement processes, including the conduct of a community health assessment (CHA) and the development of a community health improvement plan (CHIP), for the purpose of improving the health of local communities.
Community Tool Box – The Community Tool Box is a free, online resource for those working to build healthier communities and bring about social change. It offers thousands of pages of tips and tools for taking action in communities. Want to learn about community assessment, planning, intervention, evaluation, advocacy, and other aspects of community practice? Then help yourself to over 300 educational modules and other free tools.
Healthy People provides science-based, 10-year national objectives for improving the health of all Americans. For 3 decades, Healthy People has established benchmarks and monitored progress over time.
Centers for Disease Control Health Planning Tools – These health planning tools are designed for an array of audiences including planners, public health professionals, the general public, practitioners, project managers, stakeholders.
Step 4: Seek Funding.
The great thing is that there is a vast spectrum of no-cost and low-cost projects that can make your community healthier. Of course there's also those projects that will take significant financial investment. Here's a few potential funding sources that have a healthy community focus:
Arkansas Community Foundation – The Arkansas Community Foundation makes grants and shares knowledge to help meet the needs of our state and its people. ARCF supports charitable programs already working for Arkansas and partners with others to create new initiatives that address gaps in our communities.
Blue & You Foundation for a Healthier Arkansas – The Blue & You Foundation has two different grant programs, its Regular Grants Program and Mini-Grant Program. Regular grants are awarded annually in a range from $5,000 to $150,000 with an annual application deadline of July 15. Their mini-grants program offers a simpler application with awards of $1,000 to support health improvement projects in Arkansas. Mini-grant applications are accepted during the months of January, February, and March.
Arkansas Department of Parks and Tourism – The mission of the Outdoor Recreation Grants Program is to improve the management, planning, and overall quality of Arkansas's outdoor recreation resources through advocacy, research, technical assistance, inter-communications, and funding assistance.
Wal-Mart Foundation – Wal-Mart Foundation's mission is to create opportunities so people can live better. They consider it their responsibility to make a positive impact in the communities they serve through grants and volunteer efforts of Wal-Mart associates. In 2013, Wal-Mart and the Wal-Mart Foundation gave $1.3 billion in cash and in-kind contributions around the world, surpassing 2012's total by more than $244 million. Global in-kind donations accounted for $1 billion, while $316.3 million was given in cash globally.
Fuel Up to Play 60 – Up to $4,000 per year is available to qualifying K-12 schools. To receive Funds for Fuel Up to Play 60, you will choose one Healthy Eating and one Physical Activity Play. The Healthy Eating Plays focus on all school meals throughout the day, including snacks. The Physical Activity Plays provide opportunities for physical activity inside and outside of regular school hours and ideas that include the entire community.
Coordinated School Health in Arkansas Joint Use Agreements – The Arkansas Joint Use Agreement (JUA) Grant is a competitive application process made possible and supported by Arkansas' Governor's Office and the Arkansas Tobacco Excise Tax created by Arkansas Act 180 of 2009. These funds aid schools in adoption and implementation of joint use policy and forming collaborative partnerships with local community resources with the intent of maximizing resources while increasing opportunities for physical activity. Funds are available each fiscal year based on Tobacco Excise Tax appropriations or until funds are expended. The JUA is a collaboration of the Arkansas Department of Education (ADE), Arkansas Department of Health (ADH), and the Arkansas Center for Health Improvement (ACHI).