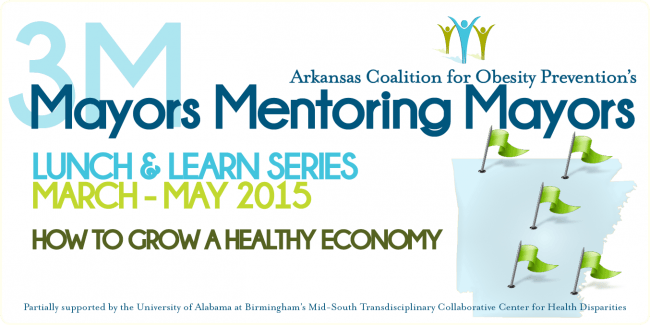 At these lunch & learns, our host mayors shared no-cost, low-cost, and larger investment changes that have made their cities healthier and more economically secure.
Mayors who made the decision to create a healthier, more attractive, walkable, successful, appealing, proactive, vigorous, positive, enjoyable, memorable city attended the lunch & learns. They were only an hour and a half, with free lunch, great networking, and lots of ideas to help your city's economy boom!
Check out photos from the series on our Facebook Page.
3M Lunch & Learn: Northeast Arkansas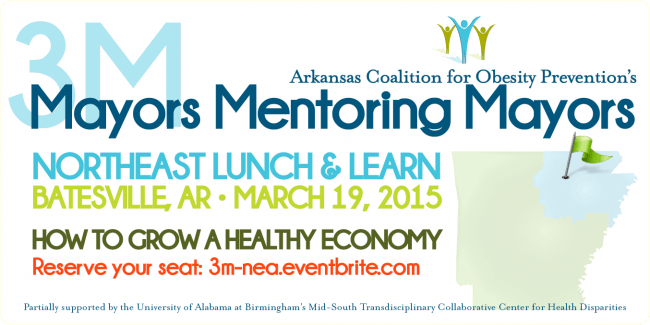 Host Mayor
Rick Elumbaugh, City of Batesville
Rick Elumbaugh is proud to have focused on helping the City of Batesville prosper through increasing its status as a healthy community since he was elected mayor 2007.
During the past nine years he has supported no-cost solutions such as water in city vending machines and anti-tobacco and e-cigarette policy, low-cost solutions such as building of two farmer's market pavilions and community garden, as well as larger investment items like leading a Community Development Initiative to add a tournament-grade baseball park including 7 replicas of major league fields, 9 new soccer fields and a new indoor/outdoor aquatics park and community center.
Batesville has also benefited from the addition of bike lanes and 3 miles of paved Greenway Trail.
Location: UACCB, Batesville, AR
Date: Thu, Mar 19 from 11:30am – 1:00pm
50 seats available. Lunch provided.
Attended by mayors of Flippin, Magness, Neward, Cherokee Village, McCrory, and Bauxite as well as guests & community members.
---
3M Lunch & Learn Northwest Arkansas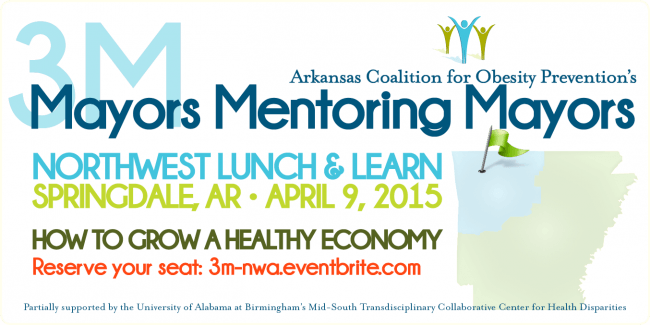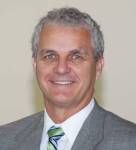 Host Mayors
Doug Sprouse, City of Springdale
Doug Sprouse is proud to have helped the City of Springdale thrive through developing its status as a healthy community since 2009.
In the last 6 years, Mayor Sprouse has reinforced the healthy community idea through many projects like the Razorback Greenway Trail, which supplies the City of Springdale and surrounding communities with 36 miles of trails for walking and biking.
The City of Springdale partnered with the Springdale Rotary Club to provide all inclusive playground equipment at Tyson Park, including building the Miracle League Field which allows special needs children of all ages to enjoy the game of baseball.
The City of Springdale also worked together on projects with the Springdale School District to promote a healthy lifestyle for all students.  Projects include walking trails at local schools, the Safe Route to School Program, and applying/receiving grants to provide Springdale schools with bikes to encourage students to live a healthy lifestyle in and outside of school.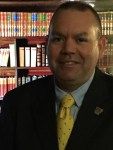 Shawn Lane, City of Yellville
Shawn Lane has been the Mayor of Yellville since 2007 and worked closely with the Yellville-Summit School system since that time to support healthy life style programs. Being from a small community of 1,204 makes it necessary for many organizations in the community to work together to get projects moving. Mayor Lane has been very supportive and involved in ArCOP's Growing Healthy Communities program since attending his first event in 2013 as part of a grant awarded to the school. The City of Yellville along with the Yellville-Summit School has partnered on many successful projects and grants such as joint use facilities programs. By working together they have been able to participate in a walk ability study, bike route plan, a successful school garden, farmers market, completion of walking and biking paths, handicap accessibility and an Anti-tobacco & e-cigarette ordinance for all outdoor city park properties.
Location: Arvest Ballpark, Springdale, AR
Date: Thu, Apr 9 from 11:30am – 1:00pm
50 seats available. Lunch provided.
Attended by mayors of Greenwood, Mulberry, Garfield, Greenland, Cave Springs, Little Flock, West Fork, and Clarksville, as well as guests & community members.
---
3M Lunch & Learn Southeast Arkansas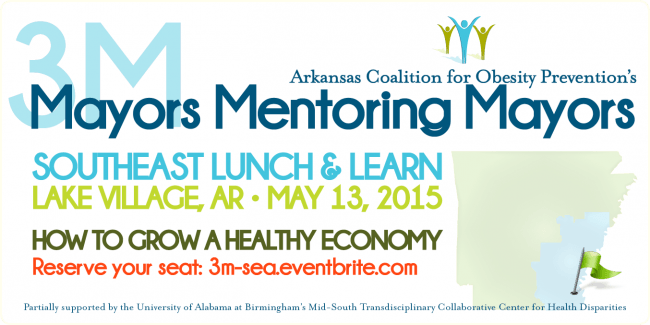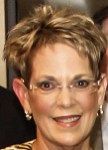 Host Mayor
JoAnne Bush, City of Lake Village
JoAnne H. Bush is proud to have helped the City of Lake Village prosper through increasing its status as a healthy community.
During the past years, Mayor Bush has supported no-cost solutions such as the devleopment of the city's anti-tobacco policy and empasizing the use of city parks and sidewalks for exercise. She has supported low-cost solutions such as a community garden expansion, worksite wellness, and evaluations programs. Larger investment projects she has supported include the farmers' market pavilion, a free-to-the-public fitness center, and the purchase and installment of fitness station equipment at the city parks. Additional equipment, improvements, and walking trails are in the works.
To formalize the City's stance, the council adopted a healthy eating-active living resolution in 2013.
Location: The Cow Pen, Lake Village, AR
Date: Wed, May 13 from 11:30am – 1:00pm
50 seats available. Lunch provided.
Attended by mayors of Gould, Wilmot, Portland, Lake Village, Montrose, and Monticello, as well as guests & community members.
---
3M Lunch & Learn Southwest Arkansas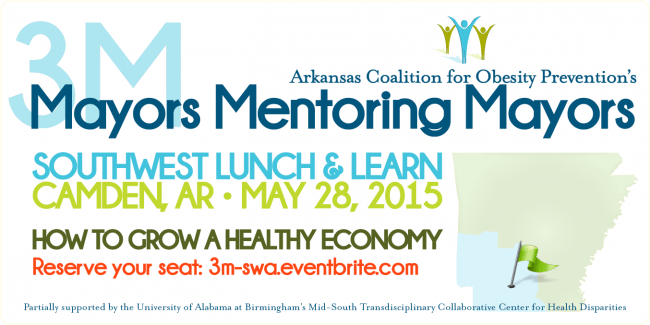 Host Mayors
Marie Trisollini, City of Camden
Marie Trisollini is very proud to be involved in the efforts being made to make the City of Camden, AR a healthier community. She has owned a taekwondo school/fitness center for 21 years, providing classes in Martial Arts, SilverSneakers, Kickboxing and MMA. Her business, South Arkansas Martial Arts, provides fitness opportunities for people ages 6 and up, with their oldest members being in their 70's.
Since being sworn in as Mayor in January 2015, she has become involved in the development of Camden Connections, a "rails to trails" project designed to convert unused railroad tracks into walking/running/bicycle trails that will eventually weave all through the City.
The City of Camden also has an active Community Garden and this year will have a Farmers' Market.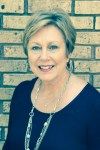 Ruth Carney, City of Hot Springs
Ruth Carney is excited about what has been happening in her city of Hot Springs, AR since she was elected Mayor in 2010. Mayor Carney was the first Mayor in Arkansas to sign the Million Hearts Initiative for Cities in 2012 and was a speaker at the Million Hearts City Wide launch at the YMCA in February 2013. This event was the kick off for what is now called Healthy Hot Springs. The website has scheduled events and healthy opportunities that are available to the community at no cost. She with several staff members attended the Growing Healthy Communities Immersion Training in March 2013 at DeGray State Park. The training played a vital role in organizing and implementing the concept of a healthy community. In cooperation with many organizations including Hot Springs National Park, YMCA, Project Hope, the Health Department and community organizations, Hot Springs has truly became a health conscious community. Mayor Carney serves on the Complete Streets Ordinance committee, Project Hope, Mental Health Court committee, Executive board for the Garland County CARES (drug, alcohol, tobacco prevention for youth), Bridges out of Poverty steering committee, Continuum of Care committee for the Homeless, Metropolitan Planning Org. (roads and highways), the Arkansas rails to trails committee, and helped establish the Human trafficking task force of Garland County.
There are many facets involved in Healthy Communities and with more citizens participating much is being accomplished. We have cooking classes, trails, parks, a Farmers Market, community gardens, health fairs, and free medical and counseling services plus many more opportunities to enjoy the benefits of living in Healthy Hot Springs, Arkansas!
Location: Postmaster Grill, Camden, AR
Date: Thu, May 28 from 11:30am – 1:00pm
50 seats available. Lunch provided.
Learn more & RSVP.
Attended by mayors of East Camden, El Dorado, Malvern, McNeil, Mineral Springs, Stephens, and Thornton, as well as guests & community members.
---
3M Lunch & Learn Central Arkansas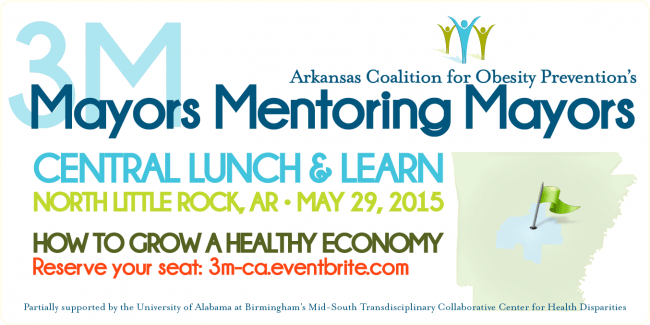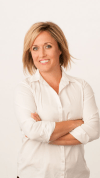 Host Mayors
Jill Dabbs, City of Bryant
Mayor Dabbs has been an advocate for improved transportation alternatives and connectivity since she first took office in 2011. She currently serves on the executive board of Metroplan for the Central Arkansas Region as well as the executive committee for Arkansas Municipal League.
Mayor Dabbs has a clear understanding of the connection between quality of life and the built environment as well as the built's environment direct impact on economic development.  Under her leadership the city of Bryant received a downtown planning revitalization grant called Jump Start along with a 1.8 million dollar appropriation from Metroplan for intersection improvements in this same area.  Under her leadership a complete streets policy was passed and the city is well on its way to having a master pedestrian and bicycle plan completed in 2015.
Mayor Dabbs has been able to accomplish a lot of the above through leveraging her efforts with other organizations such as Arkansas Coalition for Obesity prevention, Transportation for America, and The WalkLive organization led by Dan Burden.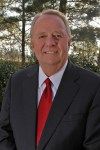 Joe Smith, City of North Little Rock
Joe Smith took office as the 19th Mayor of North Little Rock in January of 2013, following more than twenty years of public service to the city.
Born and raised in North Little Rock, Mayor Smith is a graduate of North Little Rock High School and the University of Arkansas. In his previous city management position, Mayor Smith helped North Little Rock apply for the Communities Putting Prevention to Work grant and was an early supporter of the Fit 2 Live initiative.
Since taking office in 2013, Mayor Smith has continued budgeting $41,000 per year for North Little Rock community gardens and Arkansas GardenCorps service members to support them. He has also shepherded the City's economic revitalization and healthy community design efforts by applying for two Jump Start grants from Metroplan and dedicating staff to see the project through.
In 2015, Mayor Smith made employee wellness a top priority, increasing the City's wellness budget by 65%, which supports a results-based wellness incentive program and reimbursements for gym memberships and other fitness activities.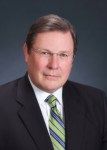 Mark Stodola, City of Little Rock
Mark Stodola was elected as Mayor of the City of Little Rock, beginning in January 2007. As Mayor, he has helped prioritize public safety as the City's foremost obligation, resulting in substantial decreases in violent crime and property crime and focused on various quality of life projects impacting economic development and tourism.
The Mayor has partnered with the State of Arkansas and the Little Rock Regional Chamber of Commerce to bring over $1 billion in new capital investment to the city resulting in over 5,000 new jobs since taking office. In 2009, he crafted a major bond initiative that resulted in $6.9 million dollars in improvements to the City's park system and, in 2011, led a successful campaign to increase the City's sales tax which had been the lowest in the state. The city is now enjoying many new much-needed facilities as well as road and drainage improvements.
Stodola has been key in promoting the revitalization of Little Rock's Main Street, resulting in the city receiving 9 state, national and international design awards for its "Creative Corridor" plan which has sparked over $76 million dollars in private sector development.
Currently, Mayor Stodola serves the US Conference of Mayors as Vice-Chair of the Metro Ports and Exports Task Force and as a member of the Advisory Council. He is also on the Board of Directors for the National League of Cities.
Location: Arkansas Municipal League, North Little Rock, AR
Date: Fri, May 29 from 11:30am – 1:00pm
50 seats available. Lunch provided.
Attended by mayors of Cabot, Clarksville, Conway, Forrest City, Greenbrier, and Maumelle, as well as guests & community members.
---
Frequently Asked Questions
Were the lunch & learns open to members of the community?
We received limited funding & space for this event series, so first priority went to individuals who are currently filling an elected mayoral office. Second priority went towards mayors' personal guests, staff, and city council members. Third priority was given to interested community members. These priorities are set based on the limitation of funds and the focus of the program. As it turned out, all those who expressed interest were able to attend.
Were mayors able to bring staff & guests?
We received limited funding & space for this event series, but included a mayoral guest/staff or council member registration option. These slots were confirmed on a "first come" basis two days prior to the event for any mayoral slots not filled. As it turned out, all those who expressed interest were able to attend.
How did community members know their spot was confirmed?
Two days prior to the event, any seats not reserved by mayors were confirmed for those who were registered as mayoral guest/staff or council members and if room was still available, by interested community members. Either way, interested individuals received an email letting them know if they had a seat reserved or if the event is filled. We apologized in advance if we had to decline someone's reservation. These priorities were set based on the limitation of funds and the focus of the program. As it turned out, all those who expressed interest were able to attend.
If the date of a lunch & learn didn't work for a mayor, could a member of his/her staff/council attend instead?
As the event series was focused towards the mayor, we encouraged mayors to check our other dates & locations since we hosted five total lunch & learns. That being said, mayoral guest/staff or council members were encouraged to register and await confirmation as listed above.
Were folks able to update their registration information?
Most definitely. If they weren't able figure it out through the Eventbrite emails, they were able to send us a note and we made the updates for them.
Did registered guests need to bring the printed confirmation?
While all attending needed to register (for head count, food preferences, photo permission, etc) printed confirmations were not necessary. Guests were invited to save a tree and just give us their name at the door.
The name on the registration didn't match the planned attendee. Is that okay?
If a name was spelled wrong, folks were asked to update the registration information or connect with us so we could do so for them. If the name didn't match because someone was planning to attend in another's stead, they were asked to cancel the original registration and to register the new individual in the appropriate role (Mayor, Mayor's guest/staff of council member, Interested community member). If they needed help doing this, assistance was just an email away.