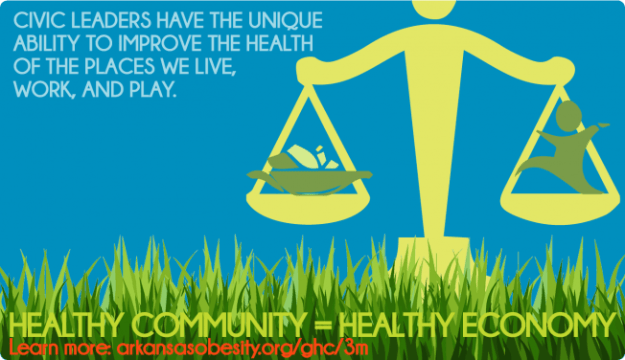 Good Health Starts in Healthy Places
Civic leaders have the unique ability to improve the health of the places we live, work, and play by: giving health a greater priority when planning their city's future, increasing access to healthy and affordable foods, and establishing a culture of wellness for municipal employees.
AARP Livability Fact Sheets: The Complete Collection* – Livable communities are great places for all ages. A package of 11 comprehensive, easy-to-read livability resources, the fact sheets can be used individually or as a collection by community leaders, policy makers, citizen activists, and others to learn about and explain what makes a city, town, or neighborhood a great place to live.
*Hot Springs, Arkansas is a "Why It Works" feature on page 10!
Healthy Kids, Healthy Communities – Healthy Kids, Healthy Communities, a national program of the Robert Wood Johnson Foundation, is helping communities across the country to reshape their environments to support healthy living and prevent childhood obesity.
Association for Community Health Improvement – The Association for Community Health Improvement is the premier national association for community health, community benefit, and healthy community professionals. They deliver education, professional development, peer networking, and practical tools that help you expand your knowledge and enhance your performance in achieving community health goals.
Project for Public Spaces – Project for Public Spaces (PPS) is a nonprofit planning, design, and educational organization dedicated to helping people create and sustain public spaces that build stronger communities. Their pioneering Placemaking approach helps citizens transform public spaces into vital places that highlight local assets, spur rejuvenation, and serve common needs.
Convergence Partnership Healthy People Healthy Places – The Convergence Partnership was founded on the belief that health and place are inextricably linked. People are healthy when the places where they live support good health. Without a healthy environment, people are more likely to suffer from obesity or many other chronic diseases plaguing the United States: diabetes, asthma, and heart disease. To prevent disease, we must create healthier neighborhoods that support healthy choices. This requires change in both the food environment—how food is grown, processed, distributed, and sold—and the physical environment—how neighborhoods are built to the transportation systems that serve them. The Convergence Partnership is a collaborative of funders whose goal of policy and environmental change will help reinvent communities of healthy people living in healthy places.
Leadership for Healthy Communities – Leadership for Healthy Communities (LHC) is a national program of the Robert Wood Johnson Foundation designed to support local and state government leaders nationwide in their efforts to reduce childhood obesity through public policies that promote active living, healthy eating and access to healthy foods and beverages. LHC places special emphasis on promoting policies with the greatest potential for increasing sustainable opportunities for physical activity and healthy eating among children at highest risk for obesity.
ChangeLab Solutions – ChangeLab Solutions specializes in researching and drafting model laws and policies, providing analysis and recommendations on environmental change strategies, developing educational toolkits and fact sheets, and providing on-demand training and technical assistance to support stakeholders in their policy reform efforts. Their interdisciplinary team of lawyers, urban planners, architects, policy analysts, and public health specialists successfully apply this approach in the context of land use and transportation planning, childhood obesity prevention, tobacco control, food systems, school environments, and more.
Prevention Institute – Prevention & Equity Institute at the Center of Community Well-being was founded in 1997 to serve as a focal point for primary prevention practice—promoting policies, organizational practices, and collaborative efforts that improve health and quality of life. As a national non-profit organization, the Institute is committed to preventing illness and injury, to fostering health and social equity, and to building momentum for community prevention as an integral component of a quality health system.
Designing Healthy Communities – Public health has traditionally associated the "built environment" with issues such as poor sanitation, lead paint poisoning children, workplace safety, fire codes and access for persons with disabilities. If we are what we eat, it can also be said that we are what we build. We now realize that how we design the built environment may hold tremendous potential for addressing many of the nation's current public health concerns for both children and adults. These include obesity, cardiovascular disease, diabetes, asthma, depression, violence and social inequities. Almost everything in our built environment is the way it is because someone designed it that way. The project's goal is to offer best practice models to improve our nation's public health by re-designing and restoring our built environment. The Designing Healthy Communities Press Kit provides a highlight of media regarding the built environment.
Pass Anti Tobacco & e-Cigarette Policies, Get Free Signs – Adopt or expand anti tobacco and e-cigarette policies, get free signage! ADH's Tobacco Prevention & Cessation Program (TPCP) is one of ArCOP's strategic partners because we're both seeking healthier communities – and tobacco- and e-cigarette-free communities are healthier for those who live, work, play, and pray in them. TPCP has funds available to help city governments, businesses, churches, communities pass tobacco and e-cigarette-free policies. Then, after a community has done so, TPCP will provide free signage to make it easy for everyone to be aware of your policies.
Federal Highway Administration Livability Initiative – Livability is about tying the quality and location of transportation facilities to broader opportunities such as access to good jobs, affordable housing, quality schools, and safer streets and roads. The FHWA supports livable communities through funding transportation -related projects and sponsoring activities like Context Sensitive Solutions and public involvement that help enable people to live closer to jobs, save households time and money, and reduce pollution.