Arkansas Walking College
---
An Inside look at the Arkansas Walking College
The Arkansas Coalition for Obesity Prevention has partnered with America Walks and the Arkansas Department of Health to create the state's first-ever Arkansas Walking College. In short, the goal of the program is to find and develop advocates to help make our communities more walkable. The first graduating class of Fellows (students) wrapped up their training recently. We were there to see how it works and why everyone involved shares a common vision and passion.
---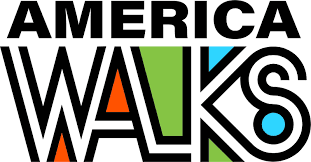 Apply for a Fellowship
America Walks, the Arkansas Dept. of Health, and the Arkansas Coalition for Obesity Prevention (ArCOP) are looking for walkable community advocates who are interested in honing their skills and developing a statewide network of peers and mentors.  If you are working to increase walking and improve pedestrian safety in your community, consider applying for a Fellowship with the Arkansas State Walking College.
This statewide program is modeled after the Walking College – America Walks' six-month, distance-education program for walkable community advocates across the country.  Fellows will complete a series of modules covering leadership development, coalition-building, walkable community design, local public policy, and strategic planning.  The instructional content includes online study materials, video-conferenced discussion forums with other Fellows, and community assignments.  Each Fellow will receive one-on-one coaching from a Personal Mentor to assist them in developing a Walking Action Plan for their community.  Here are the program learning objectives.
After completing the Arkansas State Walking College, Fellows will be able to:
1.     Discuss the history of transportation planning in the U.S. and the role of systemic discrimination in the built and social environments.
2.     Recruit and inspire other advocates to build and grow a local movement to address injustice by creating safe, walkable neighborhoods.
3.     Organize campaigns which use story-telling and strategic communications to develop a public narrative about healthy community development.
4.     Identify design changes in the built environment which will foster active, accessible, equitable mobility and safe use of the public space for all.
5.     Navigate the structure of local government and engage elected officials and professionals in conversations about public policy improvements.
6.     Connect social justice, public health, and climate action in a strategic plan focused on creating safe mobility for every community member.
Residents of Arkansas who are interested in the program and able to commit 4-6 hours per week (January – May) are invited to complete this online application form no later than 5:00 pm Central Time on Friday, October 29th, 2021.  Fellowships are limited and the application process is competitive.  
Please contact America Walks' Nicole Smith or Arkansas Dept. of Health's Becky Adams with any questions.
---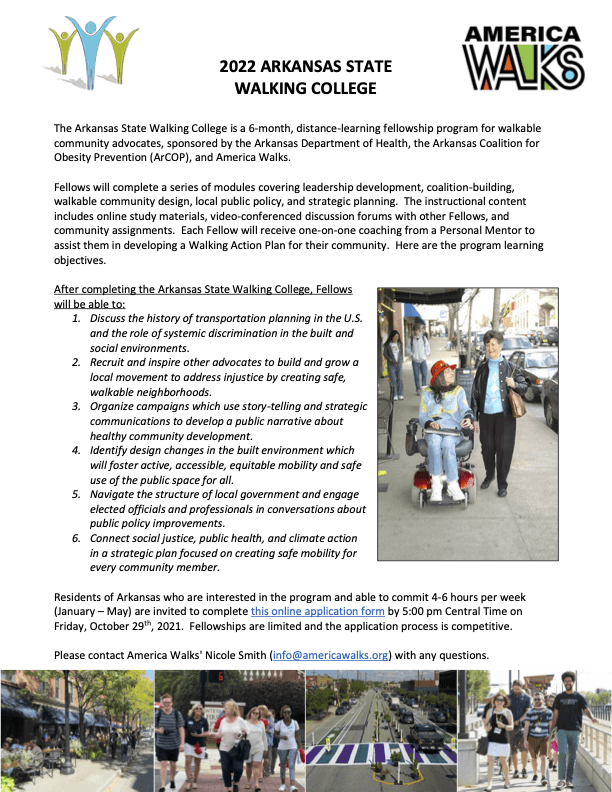 ---