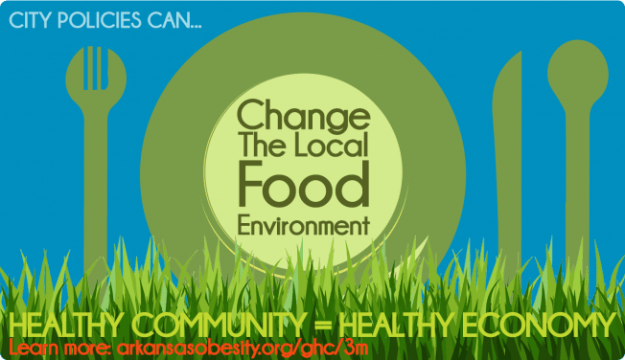 The science is clear: the food environment makes a difference.
People who live in places with many unhealthy food outlets have significantly higher rates of obesity and diabetes than those with more opportunities to buy healthy food, regardless of race or wealth. Making the decision to eat healthier is much easier when nutritious food is available near the places we live, work, learn, play, and pray.
City Policies Can Change the Local Food Environment
It is not surprising that when people live, work, learn, play and pray in places crowded with fast-food and convenience stores, they are at significantly higher risk of developing chronic health conditions. City leadership can improve community health through policies that expand access to healthy food options. Some things you can even do right now:
Assess the Local Food Environment
Some cities have food swamps, areas with many high-calorie, low-nutrition choices, but few options for someone who wants to eat healthy. Others have food mirages, areas where healthy foods are out of reach for local residents due to high cost or lack of transportation. Some cities have both.
Assess your community – Work with student groups such as the UCA Dietitians Summer Internship or do an assessment yourself by mapping grocery stores, supercenters/club stores, convenience stores, farmers' markets, co-ops, restaurants (distinguish between fast food, full service, local flavor). If you wanted to go a step further, you could compare the distribution of grocery stores, etc. to population density, age, race, gender, income, education level, language spoken in the home.
Act to Expand Healthy Food Options
Farmers' Markets can range from an informal coordinated gathering spot to the very significant investment of a customized permanent structure with demonstration kitchen, program space, public announcement system, public restrooms, and more.
State
National
Community & School Gardens give individuals an opportunity to take control of their food security, build community, can provide some physical activity and learning opportunities, and may be a way to turn an ugly or overgrown piece of real estate into something beautiful. Gardens, like farmers' markets, can span the financial gamut of very low-cost to significant investment.
Arkansas Local Food Network – The Arkansas Local Food Network seeks to connect farms to tables, growers to customers, and people to their communities.
ChangeLab Solutions Food Retail – There are many ways to increase access to healthy foods in a community. Developing new grocery stores and cooperatives, creating farmers' markets, and improving the quality of foods sold at convenience stores are all ways to increase a community's access to healthy foods. ChangeLab Solutions provides publications related to increasing access to healthy food retail.
Cooking Matters – Share Our Strength's Cooking Matters and Shopping Matters programs teaches families at risk of hunger how to get more from their food resources and cook healthy meals through cooking, shopping, and nutrition education.
The Food Trust – The Food Trust is a nationally recognized non-profit dedicated to ensuring that everyone has access to affordable, nutritious food and information to make healthy decisions. Headquartered in Philadelphia, The Food Trust works with neighborhoods, schools, grocers, farmers, and policymakers in the city and across the country to develop a comprehensive approach to improved food access that combines nutrition education and greater availability of affordable, healthy food.
The Corner Store Initiative – In 2004, The Food Trust piloted the Healthy Corner Store Initiative to motivate youth and adults to purchase healthier items through classroom education and direct marketing in the corner stores.
Community Commons: Giving Business the Incentive to Promote Healthy Lifestyles – Business owners regularly make decisions that can have tremendous impacts on community health – decisions about where homes are built, where businesses are located, and what kinds of products and services are available. Businesses can be powerful allies when it comes to improving public health. With the right incentives from local governments, business owners can be encouraged to invest not only in their own growth but also in new opportunities for physical activity and access to healthy, affordable food.
Make the Link between Hunger & Obesity
Arkansas Hunger Relief Alliance – At 19.7 percent, Arkansas ranks among the highest in the nation in household food insecurity. The Arkansas Hunger Relief Alliance, through our member food banks, relief agencies, volunteers and corporate partners, is committed to providing programs, food resources, education, and advocacy to feed Arkansas's hungry.
Drexel University Center for Hunger-Free Communities – A research, service and policy/advocacy center of Drexel University School of Public Health in Philadelphia, PA. The Center for Hunger-Free Communities offers the same multi-faceted research and action that has characterized the work on hunger and poverty at Drexel with the goal of developing innovative, empirically-tested solutions to the challenges of hunger and economic insecurity.
Witnesses to Hunger Toolkit – The Witnesses to Hunger Toolkit is a positive partnership: advice from witnesses to hunger on engaging your community in advocacy.
Use Your Power Guide – The Use Your Power Guide was an idea hatched by Witnesses to Hunger when the witnesses first began meeting as a group. They envisioned a guide, written woman-to-woman, with advice for people going through similar struggles.