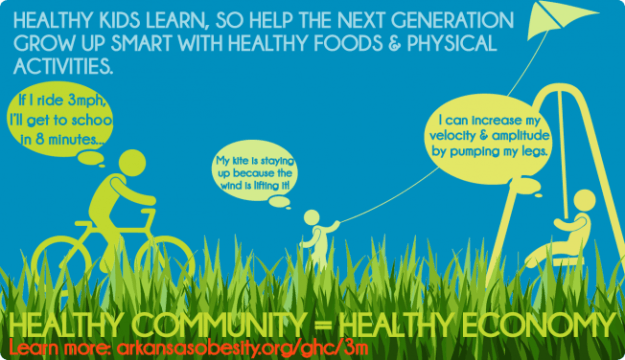 By growing healthy kids, we're setting up the next generation – and the economy – for success!
Over the last several generations, this country has changed dramatically. We've engineered physical activity out of our daily lives and, to a large extent, removed it from our schools. Unhealthy foods are being sold in larger portion sizes and at lower prices, while it remains difficult for many families to buy healthy, affordable foods and beverages. As a result of these negative changes, for the first time in modern history, today's youth may not live as long as their parents.
We've created a culture in which the healthiest choice isn't always the easiest one and that culture is having an impact on our kids. But it's not too late to make a change!
Let's Help Kids Grow Healthy

Voices for Healthy Kids – Voices for Healthy Kids®, a joint initiative of the Robert Wood Johnson Foundation (RWJF) and American Heart Association (AHA), works to help all young people eat healthier foods and be more active. Nearly one in three kids and teens is overweight or obese. By engaging, organizing and mobilizing people in communities across the United States, Voices for Healthy Kids will help make the healthy choice the easy choice in the places where children live, learn, and play.
Support School Health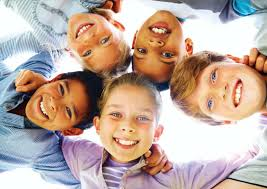 Arkansas Coordinated School Health (CSH) – CSH is a collaborative research-based collaboration between the Arkansas Department of Education (ADE) and the Arkansas Department of Health (ADH) with a goal to effectively address students' health, thus improving their ability to learn. Supporting school health & school health services means that you are supporting the necessary tools for schools to address health issues through comprehensive K – 12 health education, comprehensive K – 12 physical education and physical activity programs, nutrition services, school health services, counseling, psychological, and social services, healthy school environment, staff wellness and promotion as well as family and community involvement.
Nutrition & Physical Activity Toolkit
Early Childhood & Schools Nutrition & Physical Activity Toolkit – Compiled by ArCOP's Early Childhood & Schools Team, this toolkit is a collation of resources related to school nutrition and physical activity including tools for implementing joint use agreements, breakfast in the classroom, school gardens, the Nutrition Environment Measures Survey for Vending Machines, Fuel Up to Play 60, Let's Move!, healthy fundraiser options and additional statewide sources. If you experience problems downloading the toolkit from the link, email Audra Walters (team chair).
Support School Gardens

Let's Move: School Garden Checklist – Whether you're looking for a new way to capture your students' interest as the weather breaks or you simply need to add some life to your classroom or school, planting a school garden will do the trick.
Edible School Yard Project – The mission of the Edible Schoolyard Project is to build and share a national edible education curriculum for pre-kindergarten through high school. They envision gardens and kitchens as interactive classrooms for all academic subjects, and a free, nutritious, organic lunch for every student. Integrating this curriculum into schools can transform the health and values of every child in America.
Arkansas GardenCorp – The mission of Arkansas GardenCorps is to promote the use of school and community gardens to provide nutrition education with the purpose of reducing childhood obesity and to increase environmental awareness and sustainable agriculture practices in Arkansas communities. Arkansas GardenCorps offers school and community gardens a full-time 1700-hour and/or a part-time 900-hour AmeriCorps Service Member for one year
FoodCorps – FoodCorps is a nationwide team of AmeriCorps leaders who connect kids to real food and help them grow up healthy.
Encourage Farm to School
National Farm to School Network: Arkansas Profile – Many Arkansas-based non-profit, research, and educational organizations are working to provide students with nutrition education and hands-on learning opportunities through farm to school programs. Popular farm to school products in Arkansas include watermelon, apples, strawberries, lettuces, and more. Schools make purchases directly from farmers and farmers' markets, as well as through distributors and processors. There is great potential for growth in this area, with agriculture being the largest industry in the state. Explore this page to learn more!
Support Kids Walking & Biking to School
Walk/Bike To School – A national event can be an amazing impetus for change in communities. Through annual surveys, local Walk to School Day coordinators across the country have organized simple one-day events which, in some cases, have led to great changes such as long-term walking and bicycling programs, new sidewalks and pathways, enforcement of unsafe driving behaviors and needed policy changes at schools and in communities. Improvements that normally take a long time to institute can happen quickly when city officials walk or bicycle to school with students and see firsthand what needs to be done.
Support Truly Active Learning
Active Academics Learning on the Move – Active Academics® is a resource for classroom teachers to provide practical physical activity ideas that can be integrated into regular classroom content areas. Get students "up and moving" while still engaged in the academic learning process. Their standards-based activity ideas utilize the Common Core Standards as well as national standards.