ArCOP Regional Summits ---
ArCOP Healthy Active Arkansas Summit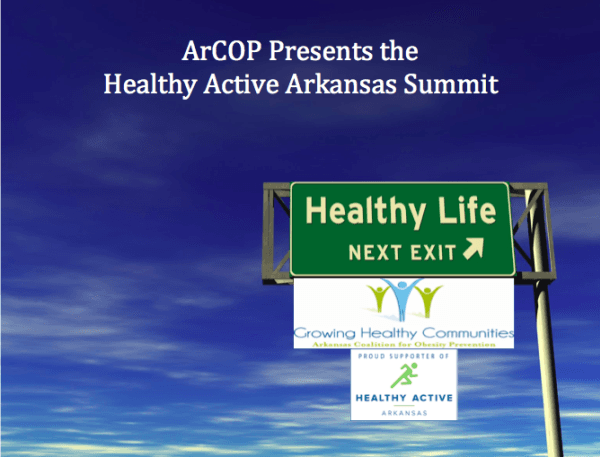 Healthier environments produce healthier people and healthier people produce greater economic outputs, consume fewer healthcare resources and lead better, longer lives. The Arkansas Coalition for Obesity Prevention (ArCOP) is focusing on making the healthy choice the first choice. The coalition's mission is to improve the health of all Arkansas communities by increasing physical activity and healthy affordable foods to reduce and prevent obesity.
ArCOP uses the Healthy Active Arkansas plan to educate communities by providing a framework of research-based strategies to guide community efforts to reduce obesity – a major factor in improving health. This summit will be focusing on seven of the nine priorities areas within the plan.
ArCOP has exclusively invited only Emerging and Blossoming Growing Healthy Communities (GHC) to this one-day summit. We encouraged each GHC to invite up to 5 members of your team.
ArCOP members and GHC members had a lot of fun and a great turn out with 131 attendees and 37 Growing Healthy Communities throughout every region of our state. ArCOP appreciates the amazing work that you put into your communities that make a big impact on our state becoming a healthier place to live, work, worship and play. ArCOP is honored to recognize each of you as a Growing Healthy Community (GHC).
All GHC's who attended the entire summit will be funded up to $1,000 for an activity or activities. For example, your community can choose Activity 1 ($200), Activity 3 ($400) and Activity 8 ($400) with a max of $1,000 per GHC or you can choose one activity totaling $1,000 per GHC. You set the budget based on the activities that you were trained on. Your community will be funded ONLY for the breakout session activities (listed below) that your community participated in. The project completion deadline is February 28, 2017.
NOTE: Once your GHC has completed the ArCOP HAA Summit Funding Form and sent it back to ArCOP, we will send you a check for 50% of the requested funds so that you can begin your project. When you have completed your project notify ArCOP and we will send you a brief summary report to complete requiring all receipts as proof of items purchased. Once we have received the form and receipts we will send the remaining funds to your community.
STEPS:
Complete ArCOP HAA Summit Funding Form
Submit to ArCOP
Receive 50% of Funds
Complete Project by January 31, 2017
Notify ArCOP
Complete Summary Report
Submit Summary Report and provide all items purchased receipts to ArCOP by February 28, 2017
Receive remaining project funds and celebrate your community's success!