Meeting Presentations
Since the busiest time of the year for markets and growers is already upon us, we decided to make changes to our already delayed 2021Arkansas Farmers Market Association Meeting. Instead of asking everyone to set aside a big chunk of their day to meet virtually, we have made it as easy as possible for members to get the information we planned to provide at the virtual gathering.
We'll be adding materials from the scheduled meeting to this page throughout the week of March 15-19 (you can also see everything on Facebook).  These presentations and any supporting information will remain on this page for future reference.  
Just because we can't be together this year doesn't mean we are not encouraging your feedback. Please... please leave comments or suggestions and we'll follow up promptly. We know this isn't ideal. We'd much prefer to meet in person, but after weather postponements and listening to input from our members and partners, this seems like the best solution.  We look forward to seeing all of you, in person, the first of next year.  
---
Welcome Presentation and AFMA Overview
Katrina Betancourt is President of the Arkansas Coalition for Obesity Prevention, the parent organization of the Arkansas Farmers Market Association.  She provides an overview of the AFMA and previews what's ahead for the week. Again, we encourage you to ask questions and provide feedback.  Please feel free to email any of our staff members mentioned in the video.  We look forward to hearing from you.  
Email Katrina Betancourt  President ArCOP and AFMA
Email Ashleigh Story   Health Education Coordinator
Email Jeremy Adams  Double Up Food Bucks Program Manager
Email Steve Powell   Outreach Coordinator
---
Cottage Foods in Arkansas
Here's a presentation from Jeff Jackson of the Arkansas Department of Health.  Although there is no video to accompany this PowerPoint presentation, this thoroughly covers the Cottage Foods Laws for the state.  Market Managers and Vendors need to understand all of these guidelines before homemade goods can be sold.  Click the image to view the PowerPoint. 
---
Guidance for Large Outdoor Venues (Farmers Markets)
Here is the latest COVID-19 Guidance for Farmers Markets from the Arkansas Department of Health.  These are subject to change quickly as virus numbers continue to decrease.  We'll keep you advised as conditions change.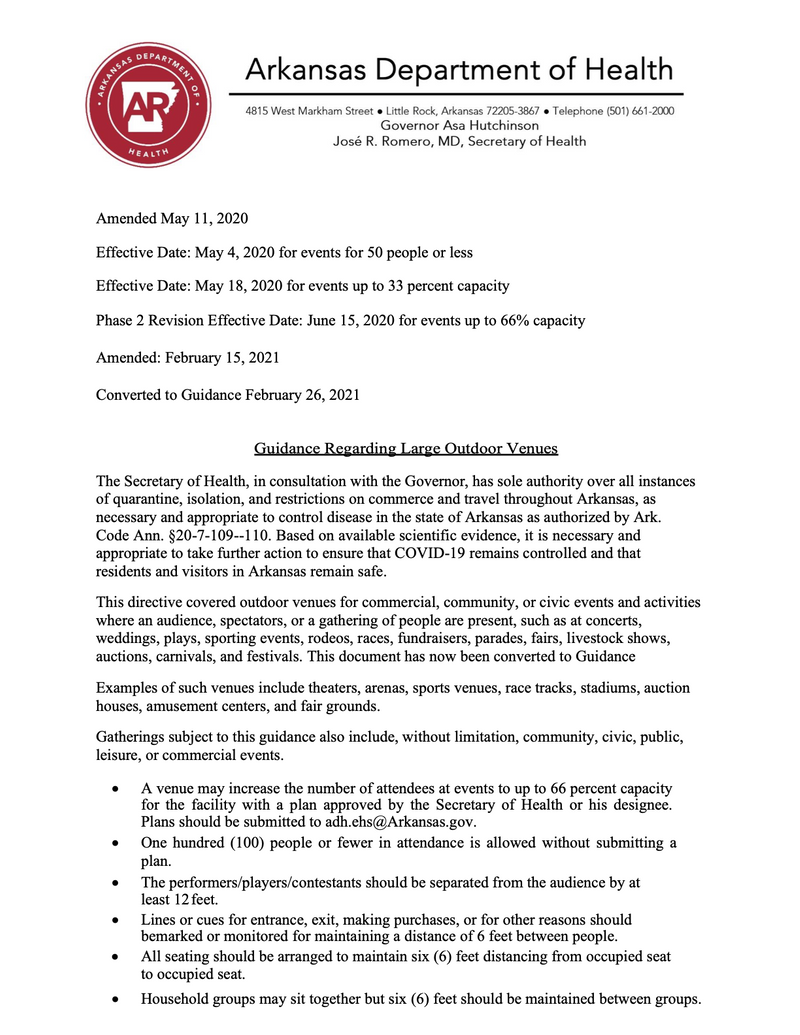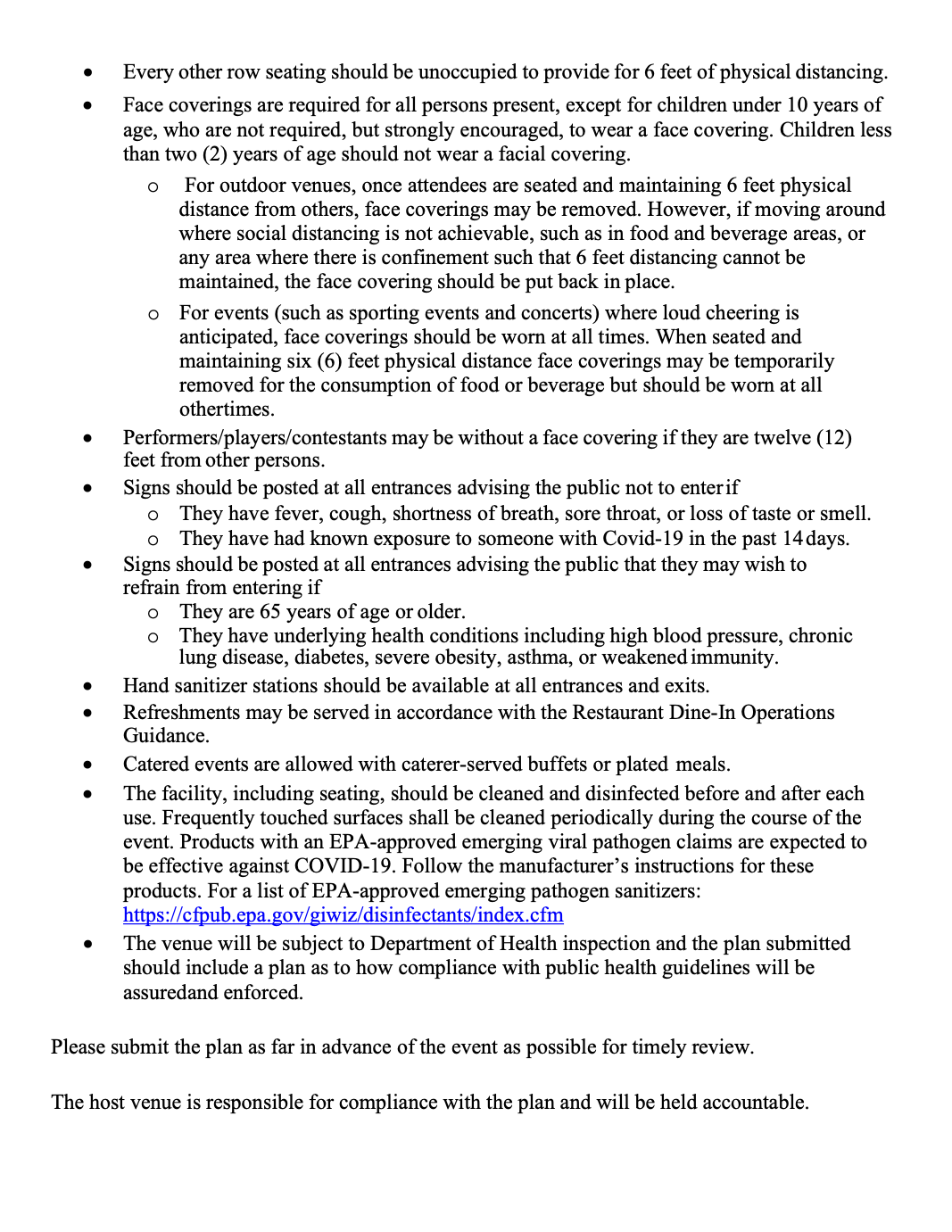 ---
USDA National Farmers Market Directory
One of the goals of the AFMA annual meeting is to help you get noticed.  Here's a quick way to ensure you're on everyone's radar.  Make sure your market is included in the USDA's National Farmers Market Directory.  It's used by customers, researchers, community developers, among others. If you've done it great.  If not, click the image to verify your market is in the Directory.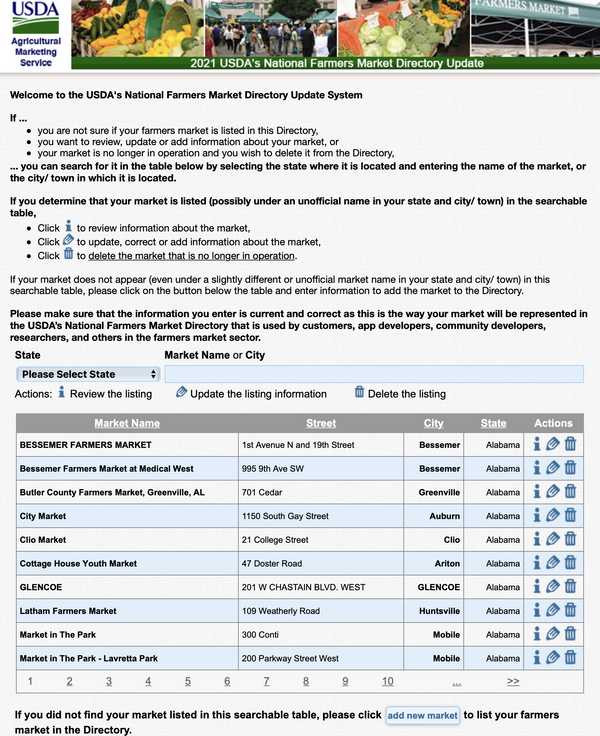 ---
"Farmers Market Business 101"
Jeremy Adams heads up our Double of Food Bucks program and spearheads our Farmers Market initiative. In this video from our 2021 AFMA Meeting he discusses "Farmers Market Business 101".  What you can expect as a manager, vendor, and consumer if you're new to farmers markets.
---
Healthy Resources
This presentation is from the Arkansas Coalition of Obesity Prevention's Health Education Coordinator Ashleigh Story.  ArCOP's mission is greatly enhanced by our stewardship of the AFMA. Our Markets and Growers are producing and selling the foods that make people healthier. Ashleigh discusses the resources that are available through the ArCOP website.  These include nutrition education and a growing Healthy Recipe page that emphasizes the fruits and vegetables found at Arkansas Farmers Markets.
---
Double Up Food Bucks
Here's a another presentation from Jeremy Adams.  He is our Double Up Food Bucks Program Manager. In this video he covers everything you need to know about this hugely successful program.  Despite the limitations of the pandemic last year DUFBs continued to break records for participation.  Jeremy discusses how it works, who participates, and how you can be involved.