What's New
---
An Inside Look at the Arkansas Walking College
The Arkansas Coalition for Obesity Prevention has partnered with America Walks and the Arkansas Department of Health to create the state's first-ever Arkansas Walking College.  In short, the goal of the program is to find and develop advocates to help make our communities more walkable.  The first graduating class of Fellows (students) wrapped up their training recently.  We were there to see how it works and why everyone involved shares a common vision and passion.
---
"Market Talk" Sheridan Farmers Market
For this edition of "Market Talk" we arrived in Grant County just as they were finishing setup for the Sheridan Farmers Market.  We hear a little bit about the market and get a chance to meet the "Pickle Lady" who shares some wisdom about the farmers market life.
To check out more from our "Market Talk" series visit our AFMA News Page
---
"Market Talk" Ray 5 Farm
We went down on the farm for this edition of "Market Talk".  Troy and Amberlee Ray operate Ray 5 Farm (although they do get plenty of help from the kids too). They are vendors at the Historic Downtown Hot Springs Farmers Market.  Here they talk about the challenges and gratification of farming and selling at market.  It's said Arkansas grows the best, because we have the best growers.  We think the Ray family is a pretty good example of just that.
---
"Market Talk" Johnson County Community Farmers' Market
The Arkansas Farmers Market Association is back with another season of "Market Talks" featuring markets and vendors from around the state. We think there is no better way to promote and learn about these indispensable people and places than hearing from them directly. We recently made the trip to the Courthouse Square in Clarksville to find out why the Johnson County Community Farmers' Market continues to impress year after year.
---
2022 Double Up Food Bucks Locations
Here are our 2022 Double Up Food Bucks locations. Some fabulous farmers markets, farm stands, and many new grocery locations all over Arkansas. SNAP users can check out the map below to find one close by.  Please go to our Double Up Food Bucks page to find out more how the program works. The program runs from May 1st until October 31st.  
---
Go NAPSACC in Action
Go NAPSACC is making a healthy difference in the lives of Arkansas children.  Childcare providers across the state are using this free online program to instill better eating habits and encourage physical activity.  We followed ArCOP's Health Education Coordinator and statewide TA Ashleigh Story as she visited Family First Childcare in Greenbrier, Arkansas to see why Go NAPSACC is such a powerful tool.
---
2022 Arkansas Farmers Market Association Annual Meeting Video
Thanks to everyone who participated in the Arkansas Farmers' Market Association's Annual Meeting.  We had a record number of registrations for the planned in-person meeting this year, unfortunately the weather forced us to take the event online via Zoom.  The good news is many of you were able to take part from home.  
Among the topics covered were the Food Freedom Act, market tools and resources provided by the Arkansas Department of Agriculture, and Double Up Food Bucks.  These presentations can be found separately here. 
---
2022 Meeting of the Members
The 2022 Annual Meeting of the Members was held online January 24th. If you were unable to join us live on Zoom, here we're providing video of the gathering in it's entirety.  It's never too late to ask questions about any of the content from the meeting, so please feel free to reach out directly to any of the presenters.  
---
"Growing Healthy Communities Weekly" Podcast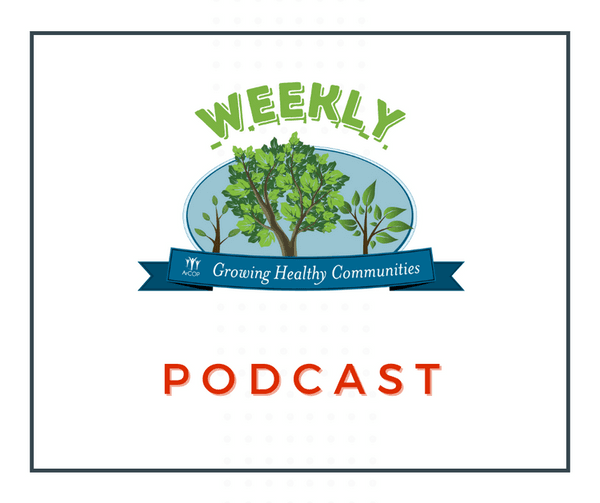 Developing a Plan for Financial Sustainability
"Developing a Committee to help with Financial Stability" is the topic of discussion in this edition of the podcast.  Here's how to organize the human resources you have around you to help you find the Financial resources you need to make your plans a reality.
---
Watch as we discuss why non-profits and community organizations should develop a business plan. Host Nancy Welsh-Young says private sector practices can teach us to be better community developers.
---
This installment of the podcast kicks off the topic "Developing a Plan for Financial Sustainability."  Host Nancy Welsh-Young talks about how planning wisely can head off financial woes for your organization.  We explore in-kind support, volunteers, and shared resources.
---
Evaluating Your Initiative
This episode is about communicating information on your initiative to gain support from key audiences.  Host Nancy Welsh-Young explains why sharing your own evaluations is one key to creating public interest.
---
To watch previous episodes please visit our "Growing Healthy Communities Weekly" page.
---
Our Latest Healthy Recipe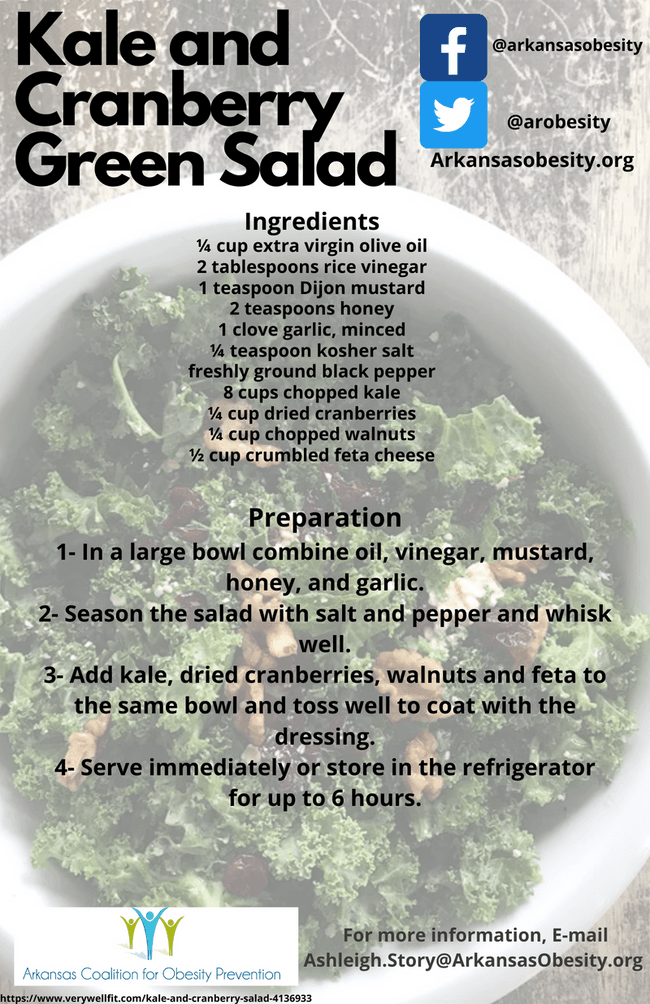 ---
Fair Food Network Visits Arkansas
Policy Director Mark Nicholson and Director of National Partnerships Noah Fulmer of the Fair Food Network visited Arkansas in early October to see how Double Up Food Bucks is working to better outcomes across the state. Here we learn a little bit more about how ArCOP and the Fair Food Network work together to make DUFBs so effective.
---
Arkansas Walking College
Here's a fabulous new opportunity!  We're empowering community-minded individuals to make a healthy difference in their hometowns. America Walks, the Arkansas Dept. of Health, and the Arkansas Coalition for Obesity Prevention (ArCOP) are looking for walkable community advocates who are interested in honing their skills and developing a statewide network of peers and mentors.  If you are working to increase walking and improve pedestrian safety in your community, consider applying for a Fellowship with the Arkansas State Walking College. Check out our Arkansas Walking College page.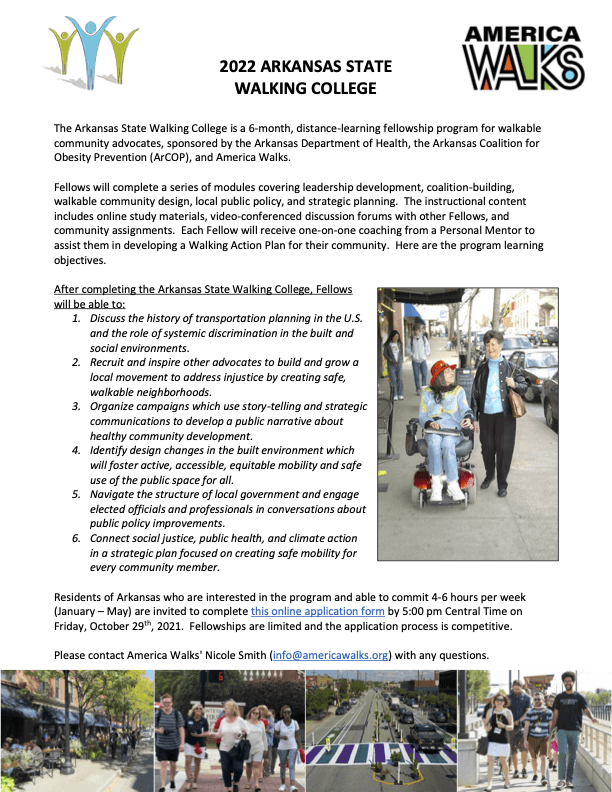 ---
What is SNAP?
Everyday SNAP customers in Arkansas are using Double Up Food Bucks to eat healthier and save money. Yet many people still don't understand what SNAP is and how it started. Here's our DUFBs Program Manager Jeremy Adams with a quick history lesson...
---
Here's an informative video that answers many questions we all have about meal preparation and food storage.  Health Education Coordinator Ashleigh Story shares information that leads to less wasted time in the kitchen and less wasted food in the refrigerator.  Make sure you check out the printable documents located in the buttons below the video to keep as a kitchen resource.
---
CATCH Health at Home: Be a CATCH MVP!
This video is part of our CATCH Health at Home materials.  We discuss immune systems and what we can do to keep them strong.  Being a CATCH MVP means (M)oving more, (V)aluing healthy eating, and (P)racticing healthy behaviors.  This video focuses on healthy behaviors.  For additional materials mentioned in the video and other ideas to help promote a healthy lifestyle visit our Health Education page.
---
Understanding Nutrition Label Facts
Shopping and eating healthier begins with understanding food nutrition labels. Lets get label literate with our Health Education Coordinator Ashleigh Story. This video breaks down the fine print so you can finely know what's in the food you are eating!
---
My Plate
"My Plate" is an informative video educating all of us on how we should think about planning and preparing meals.  The emphasis is on what you put on your plate.  What's the ideal combination of foods and portions?  Watch, learn and start eating healthier.
---
2021 Arkansas Farmers Association Meeting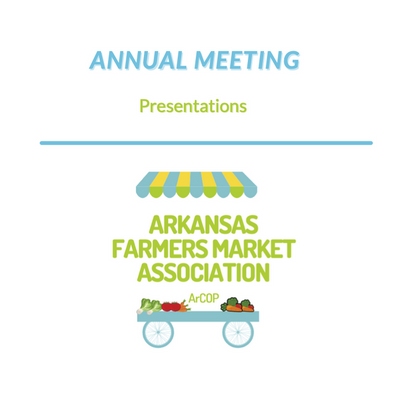 Since the busiest time of the year for markets and growers is already upon us, we decided to make changes to our already delayed Arkansas Farmers Market Association Meeting. Instead of asking everyone to set aside a big chunk of their day to meet virtually, we are going to make it as easy as possible for members to get the information we planned to provide at the virtual gathering.  
We are posting the meeting presentations here on our website so members can view them at their convenience (all materials are also pasted to our Facebook page).  We encourage your feedback. Please email any comments or suggestions to the addresses provided with the presentation. We will follow up promptly. We know this isn't ideal. We'd much prefer to meet in person, but after weather postponements and listening to input from our members and partners, this seems like the best solution. We look forward to seeing all of our members and friends in-person early 2022.  
To view any of the materials provided please visit our 2021 AFMA Meeting page. 
---
Welcome Presentation from Katrina Betancourt
Katrina Betancourt is President of the Arkansas Coalition for Obesity Prevention, the parent organization of the Arkansas Farmers Market Association.  She provides an overview of the AFMA and previews what's ahead for the week. Again, we encourage you to ask questions and provide feedback.  Please feel free to email any of our staff members mentioned in the video.  We look forward to hearing from you.  
Email Katrina Betancourt  President ArCOP and AFMA
Email Ashleigh Story   Health Education Coordinator
Email Jeremy Adams  Double Up Food Bucks Program Manager
Email Steve Powell   Outreach Coordinator
---
To see other smart food ideas visit our Healthy Recipes page.
---