What's New
---
"Market Talk" Grand Prairie Farmers Market
Here's a "Market Talk" from Stuttgart at the brand new Grand Prairie Farmers Market downtown.  We arrived just after opening before the crowds and spoke with manager Stephanie Davis about how the community helped establish the market and what the future holds.  Also, we hear about ongoing Super Saturday events that tie downtown merchants and the farmers market together.
---
"Market Talk" Hope Farmers Market
Here's a trip to Hope, Arkansas in this edition of "Market Talk". The city has a dedicated pavilion for vendors and market shoppers called "The Hub" downtown. Hempstead County grows a wide variety of produce and it's all available on market days. Among the subjects covered is the unique partnership Hope has with two other area markets.
---
Our Latest Healthy Recipes
---
"Market Talk" Heber Springs Makers Market
The Arkansas Farmers Market Association traveled to Heber Springs to see their Makers Market. We were there on the last market of the summer (it returns in September and October). While the market is mostly made up of local crafters, farmers and bakers are welcome too. Great location on the downtown Courthouse lawn makes for a fun visit to one of the state's most appealing little towns.
---
"Growing Healthy Communities Weekly" Podcast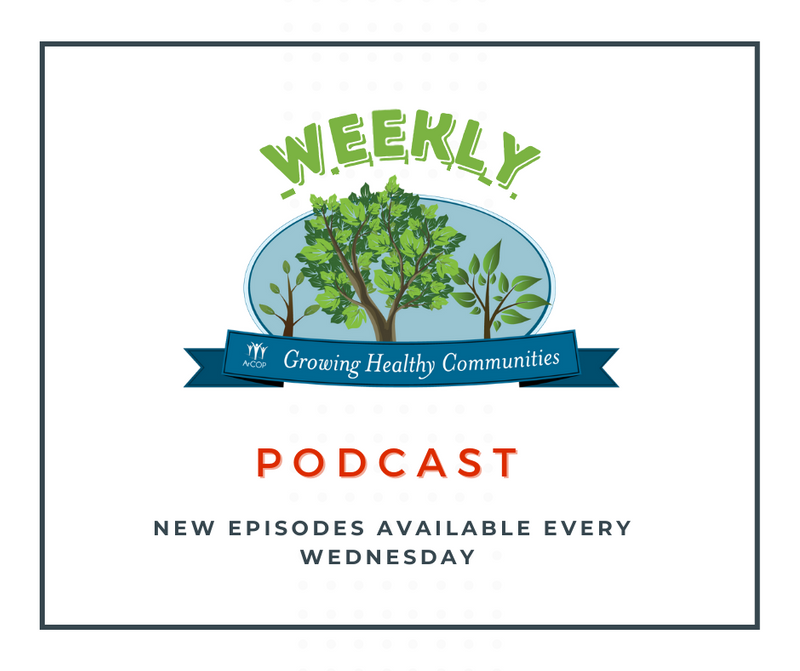 July 2021
In July our "Growing Healthy Communities Weekly" podcast is devoted to breaking down barriers, increasing access, and creating opportunities.  It's what thriving communities do well and what struggling communities forget.  Enjoying all a community has to offer shouldn't be reserved for a few, but for all.  The next four episodes will take a deep dive into building a more equitable system.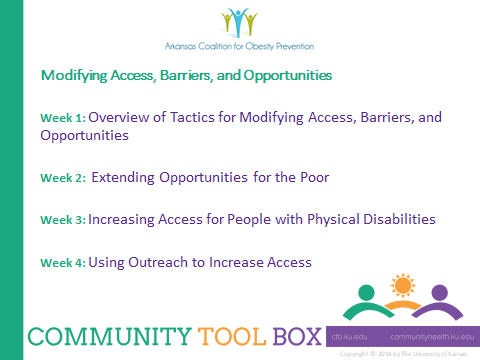 ---
Our final July podcast wraps up the topic "Modifying Access, Barriers and Opportunities".  This week we've brought in one of the state's best resources on the issue of accessibility.  Vanessa Krause is the Director of the Arkansas Disability & Health Program at the University of Arkansas.  She is our host as we discuss "Using Access to Increase Outreach".
---
Week 3 of July continues our topic of "Modifying Access, Barriers, and Opportunities" to improve community conditions.  This episode focuses on "Increasing Access for People with Physical Disabilities."  All accessibility issues are not the same.  We'll look at breaking down all kinds of barriers that keep everyone from enjoying what their communities have to offer.
---
July's Week 2 episode goes deeper into "Modifying Access, Barriers and Opportunities" by focusing on how we can make our communities more equitable to the economically disadvantaged.
---
July's first installment is an overview of why we need to address these issues.   Each Wednesday our Health Education Coordinator Ashleigh Story will drill down on extending opportunities to the economically disadvantaged, how to increase access for people with disabilities, and finally how outreach is used to increase that access.  
To watch previous episodes please visit our "Growing Healthy Communities Weekly" page.
---
"Market Talk" Downtown Fort Smith Farmer's Market on Garrison Ave.
We dropped by the Downtown Fort Smith Farmer's Market on.a Wednesday morning. It's a new day for the city and the market was smaller than the usual busy Saturdays. The Garrison Avenue gathering has been successful here for years. In fact, their "Friends of the Market" enrollment is in the thousands. We spoke with longtime Market Manager Joe Carr about how they've built their strong community support.
To check out more from our "Market Talk" series visit our AFMA News Page
---
June Activity Calendar
Summer can be problematic for families.  Kids often have too much time and not enough to do.  Our Health Education Coordinator Ashleigh Story is here to help.  She's put together this fantastic Activity Calendar for June with great ideas for every day of the week.  These are designed to get kids moving, eating healthier, and learning along the way.  Plus, we think you'll find these will be fun for the whole family.  Click the button below the calendar for details on each activity.  
---
"Market Talk" Downtown Conway Farmers' and Crafts Market
In this episode of "Market Talk" we speak with Judith Allen of SalScilla Farms. She is the Market Manager of the Downtown Conway Farmers' and Crafts Market, but she is also a grower. Judith talks about this season and shares how vendors are selected and prepped to succeed at the market. Valuable insight from someone who started in farming just five years ago.
---
Understanding Nutrition Label Facts
Shopping and eating healthier begins with understanding food nutrition labels. Lets get label literate with our Health Education Coordinator Ashleigh Story. This video breaks down the fine print so you can finely know what's in the food you are eating!
---
My Plate
"My Plate" is an informative video educating all of us on how we should think about planning and preparing meals.  The emphasis is on what you put on your plate.  What's the ideal combination of foods and portions?  Watch, learn and start eating healthier.
---
2021 Arkansas Farmers Association Meeting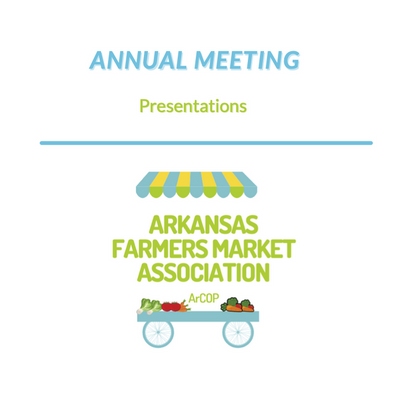 Since the busiest time of the year for markets and growers is already upon us, we decided to make changes to our already delayed Arkansas Farmers Market Association Meeting. Instead of asking everyone to set aside a big chunk of their day to meet virtually, we are going to make it as easy as possible for members to get the information we planned to provide at the virtual gathering.  
We are posting the meeting presentations here on our website so members can view them at their convenience (all materials are also pasted to our Facebook page).  We encourage your feedback. Please email any comments or suggestions to the addresses provided with the presentation. We will follow up promptly. We know this isn't ideal. We'd much prefer to meet in person, but after weather postponements and listening to input from our members and partners, this seems like the best solution. We look forward to seeing all of our members and friends in-person early 2022.  
To view any of the materials provided please visit our 2021 AFMA Meeting page. 
---
Welcome Presentation from Katrina Betancourt
Katrina Betancourt is President of the Arkansas Coalition for Obesity Prevention, the parent organization of the Arkansas Farmers Market Association.  She provides an overview of the AFMA and previews what's ahead for the week. Again, we encourage you to ask questions and provide feedback.  Please feel free to email any of our staff members mentioned in the video.  We look forward to hearing from you.  
Email Katrina Betancourt  President ArCOP and AFMA
Email Ashleigh Story   Health Education Coordinator
Email Jeremy Adams  Double Up Food Bucks Program Manager
Email Steve Powell   Outreach Coordinator
"Farmers Market 101"
Jeremy Adams heads up our Double of Food Bucks program and spearheads our Farmers Market initiative. In this video from our 2021 AFMA Meeting he discusses "Farmers Market Business 101".  What you can expect as a manager, vendor, and consumer if you're new to farmers markets.
Healthy Resources
This presentation is from the Arkansas Coalition of Obesity Prevention's Health Education Coordinator Ashleigh Story.  ArCOP's mission is greatly enhanced by our stewardship of the AFMA. Our Markets and Growers are producing and selling the foods that make people healthier. Ashleigh discusses the resources that are available through the ArCOP website.  These include nutrition education and a growing Healthy Recipe page that emphasizes the fruits and vegetables found at Arkansas Farmers Markets.
Double Up Food Bucks
Here's a another presentation from Jeremy Adams.  He is our Double Up Food Bucks Program Manager. In this video he covers everything you need to know about this hugely successful program.  Despite the limitations of the pandemic last year DUFBs continued to break records for participation.  Jeremy discusses how it works, who participates, and how you can be involved.
---
To see other smart food ideas visit our Healthy Recipes page.
---
2021 Meeting of the Members
Our Annual Meeting of the Members was held on Monday, January 25th.  Due to COVID-19 the meeting was held via Zoom.  Click the button to watch the meeting.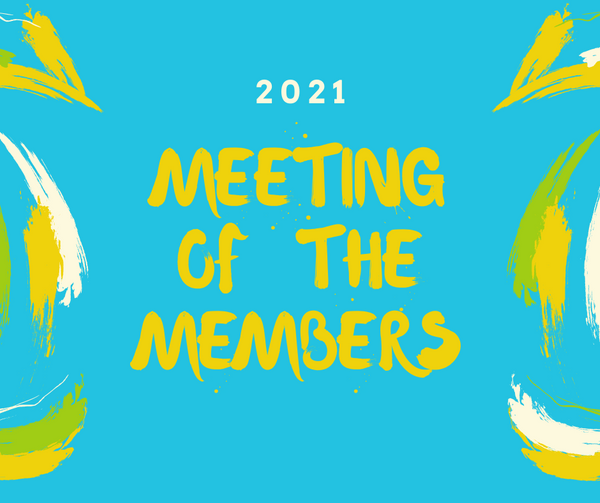 ---