Register for the ArCOP Worksite Lactation Accommodations Training Today!
ArCOP, in partnership with the Arkansas Breastfeeding Coalition (ABC), is offering a training and funding opportunity to support worksites to make accommodations so that working mothers can pump or breastfeed at work in private, sanitary and secure locations.
Space is limited and is on a first-come first-serve basis for funding. All are welcome to attend this free training on Friday, January 13th 2017, from 10:00 am - 2:00 pm, located at the Goodwill Training Room, 7400 Scott Hamilton Dr., Little Rock, AR 72209. 
Click this link for more information and to register for the training event. 

---
ArCOP Recognizes the Faulkner County Urban Farm Project Growing Healthy Community
The Faulkner County Urban Farm Project is a volunteer-run community program of La Lucha Space, a 501(c)3 nonprofit. It demonstrates sustainable home gardening practices (including exclusively using natural or organic materials, rotating crops, using rain water, making own compost, and much more), connects the community with fresh, healthy, seasonal local food, and works to foster sustainability and a sense of community in Conway.
The Urban Farm Project began donating 400-500 pounds of garden produce a year to volunteers and the food pantry at St. Peter's Episcopal Church beginning in 2011, thus addressing the larger issue of food insecurity in Conway and the greater Faulkner County region. From the help of both dedicated volunteers and funds from the ArCOP Healthy Active Arkansas (HAA) Summit, the Urban Farm Project was able to complete several projects!
On August 12th, a group of students from UCA helped make signs for the compost bin, rain barrel, and to identify plants in the garden for touring visitors. Additionally, the Urban Farm Project painted the rain barrel to prevent the growth of algae, with future plans of painting a mural. Garden staff and volunteers used new garden tools to spread mulch on walkways, build trellises, and plant fall crops. Funds from the ArCOP HAA Summit allowed for the purchase of these new garden supplies that will be used for future Urban Farm Project purposes.
The Urban Farm Project offers a variety of programs that are free and open to the community. These opportunities include Volunteer Workdays, a weekly Children's Garden Club, two annual festivals: Backyard Gourmet (spring) and Urban Farm Festival (fall- upcoming soon on November 5th from 2:00-5:00 PM!), an annual seed swap, book clubs, film screenings, nutrition education classes, and other workshops. ArCOP congratulates the Faulkner County Urban Farm Project for continuously striving to grow and improve its garden, as well as increasing access to healthy foods in its community!
---
ArCOP Recognizes the Conway Growing Healthy Community
Using funds from the ArCOP Healthy Active Arkansas (HAA) Summit, the Blossoming Conway community built two (4x8 ft.) raised garden beds at Carl Stuart Middle School.
In addition to purchasing supplies to build the garden beds, the school was able to purchase seeds and plants, a weed barrier, a garden hose, a sprinkler, a cart for the hose, a rain gauge, watering cans, hand shovels and cultivators, 5-gallon buckets, fertilizer, plant labels, gloves, and a first aid kit. Carl Stuart Middle School teachers attended a professional development session in August to learn how to incorporate school garden curriculum into their lessons.
All of the Carl Stuart Middle School students will have access to the school garden and learn more about where their food comes from, as well as participate in planting, watering, and harvesting the garden. The school hopes to grow enough produce from the garden to incorporate it into the school food menus. For now, the students will be able to taste what they grow and learn how to grow their own food. ArCOP congratulates the community of Conway and the Carl Stuart Middle School for building a school garden to educate their youth and actively working towards increasing access to healthy foods!
ArCOP Grand Rounds Presentation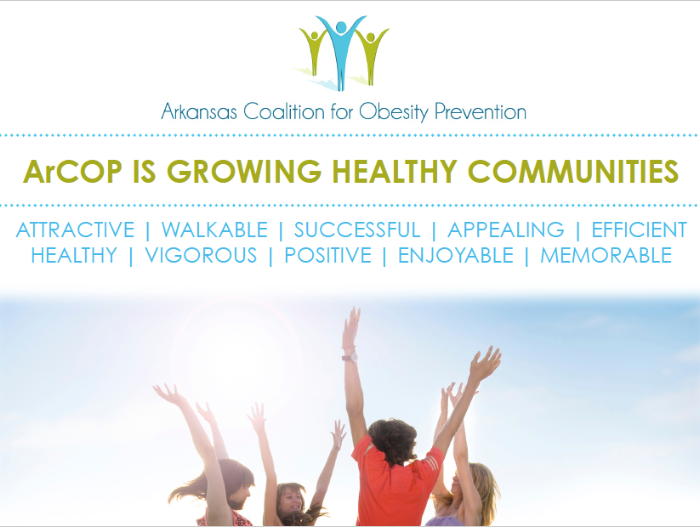 The Arkansas Coalition for Obesity Prevention (ArCOP) presented at the Arkansas Department of Health Grand Rounds on September 22, 2016. Andi Ridgway and Katrina Betancourt shared the great work that ArCOP's Growing Healthy Communities are doing across the state. They shared the Healthy Active Arkansas initiative, Mayors Mentoring Mayors, Double up Food Bucks, Growing Healthy Worksites, Growing Healthy Children, Complete Street Campaigns and so much more. To see what you missed click on the image above to see the presentation. 
---
Arkansas Drops from #1 to #6 Most Obese State in the Nation
In 2014, Arkansas had the highest adult obesity rate in the country, at 35.9%. The 2015 data, just released by The State of Obesity: Better Policies for a Healthier America, report that Arkansas has dropped from the #1 rank to the 6th rank, with an adult obesity rate of 34.5%. Although Arkansas' rates of hypertension have increased from the 7th to the 4th rank in the U.S. from 2014 to 2015, Arkansas' rates of diabetes have fallen from the 5th to the 7th rank in the U.S. ArCOP remains dedicated in helping communities make the healthy choice the first choice, leading to the improved health of all Arkansans by increasing access to healthy foods and physical activity to prevent and reduce rates of obesity.
The State of Obesity: Better Policies for a Healthier America: http://stateofobesity.org/states/ar/  
---
National Childhood Obesity Month
ArCOP in partnership with the Derek Lewis Foundation presents National Childhood Obesity Awareness Month in September. Let's bring awareness about this epidemic that Arkansas children are experiencing across our state. Post what your community is doing to increase physical activity and access to healthy foods to support our children. Throughout September ArCOP will be releasing  images for you to share with your community to bring awareness. Check out more information about National Childhood Obesity Awareness Month here http://www.cdc.gov/features/childhoodobesity/.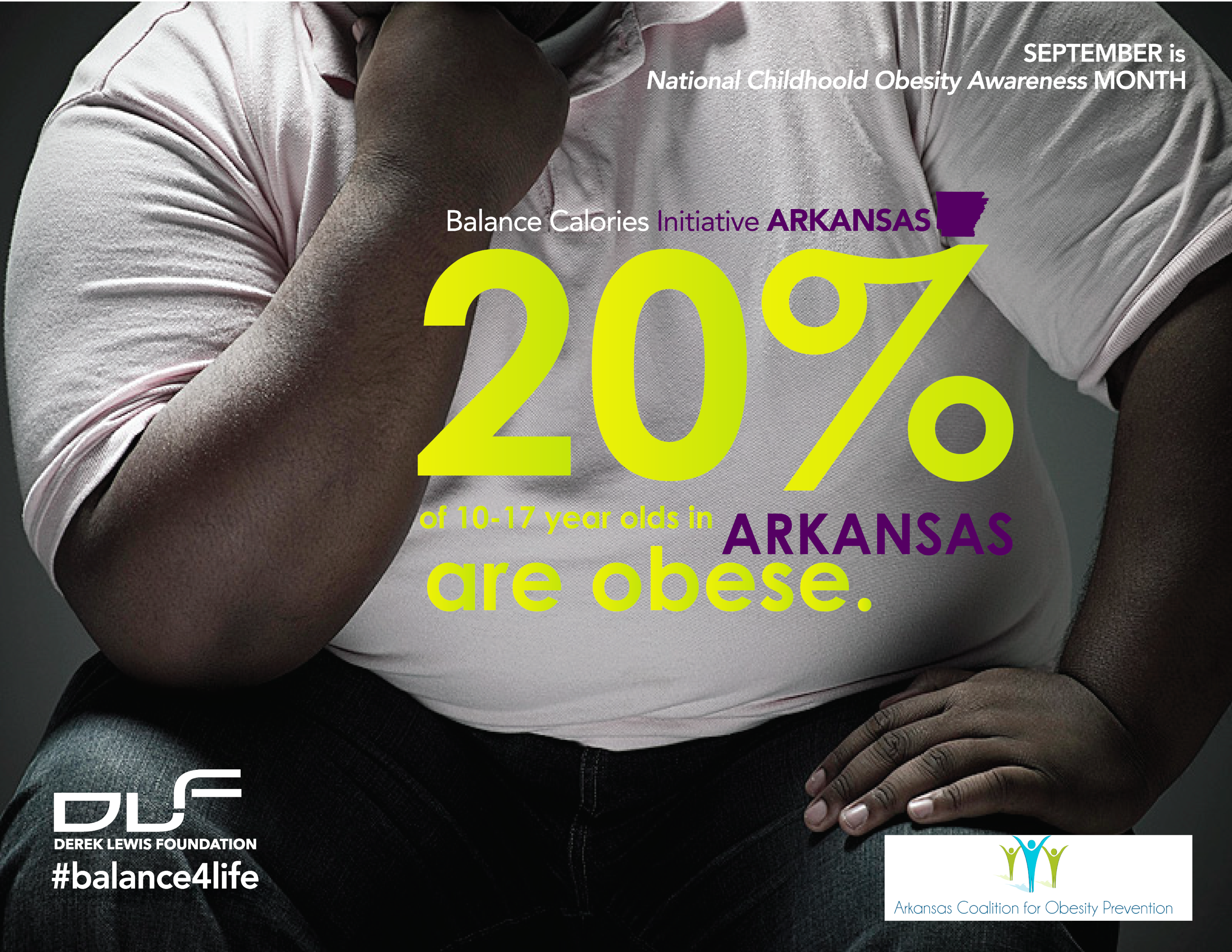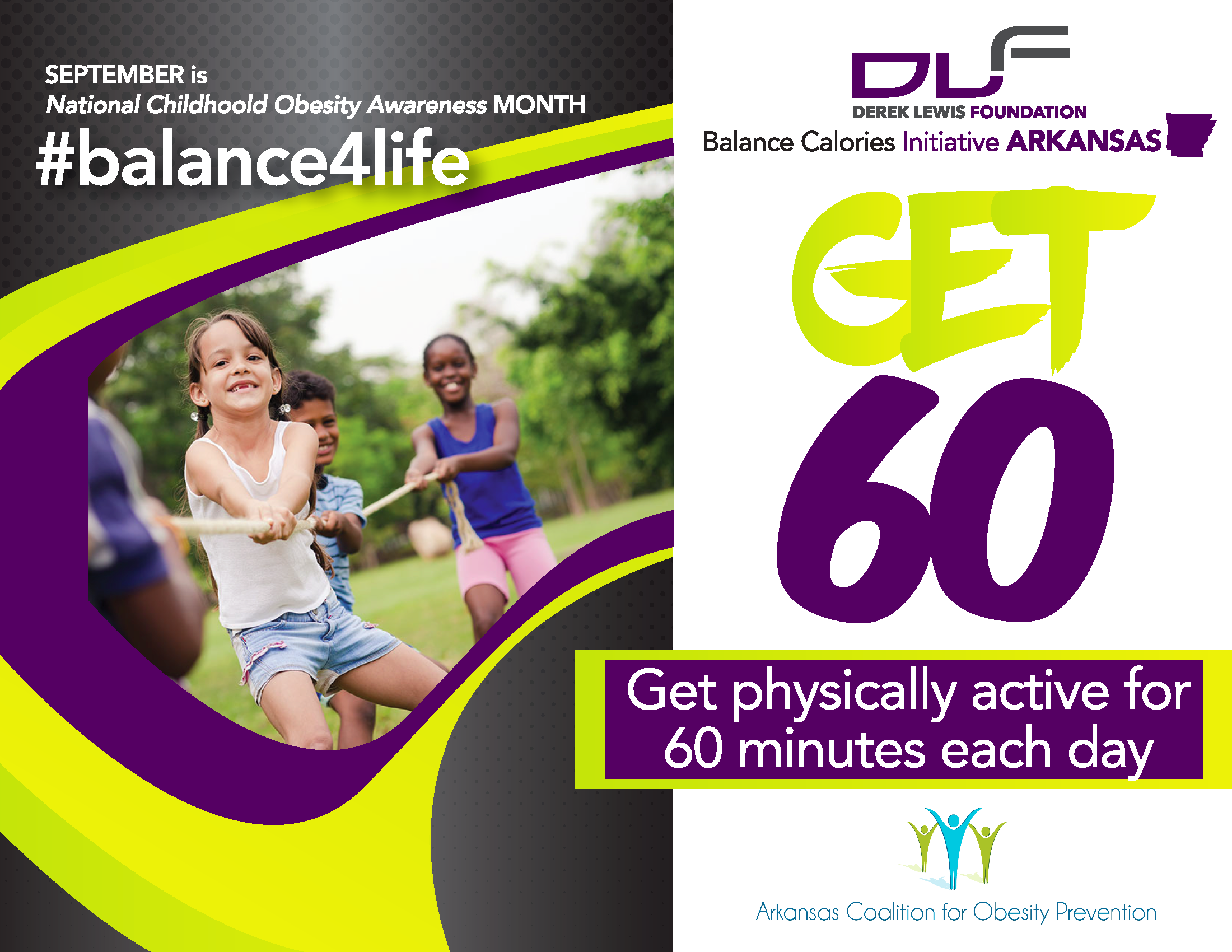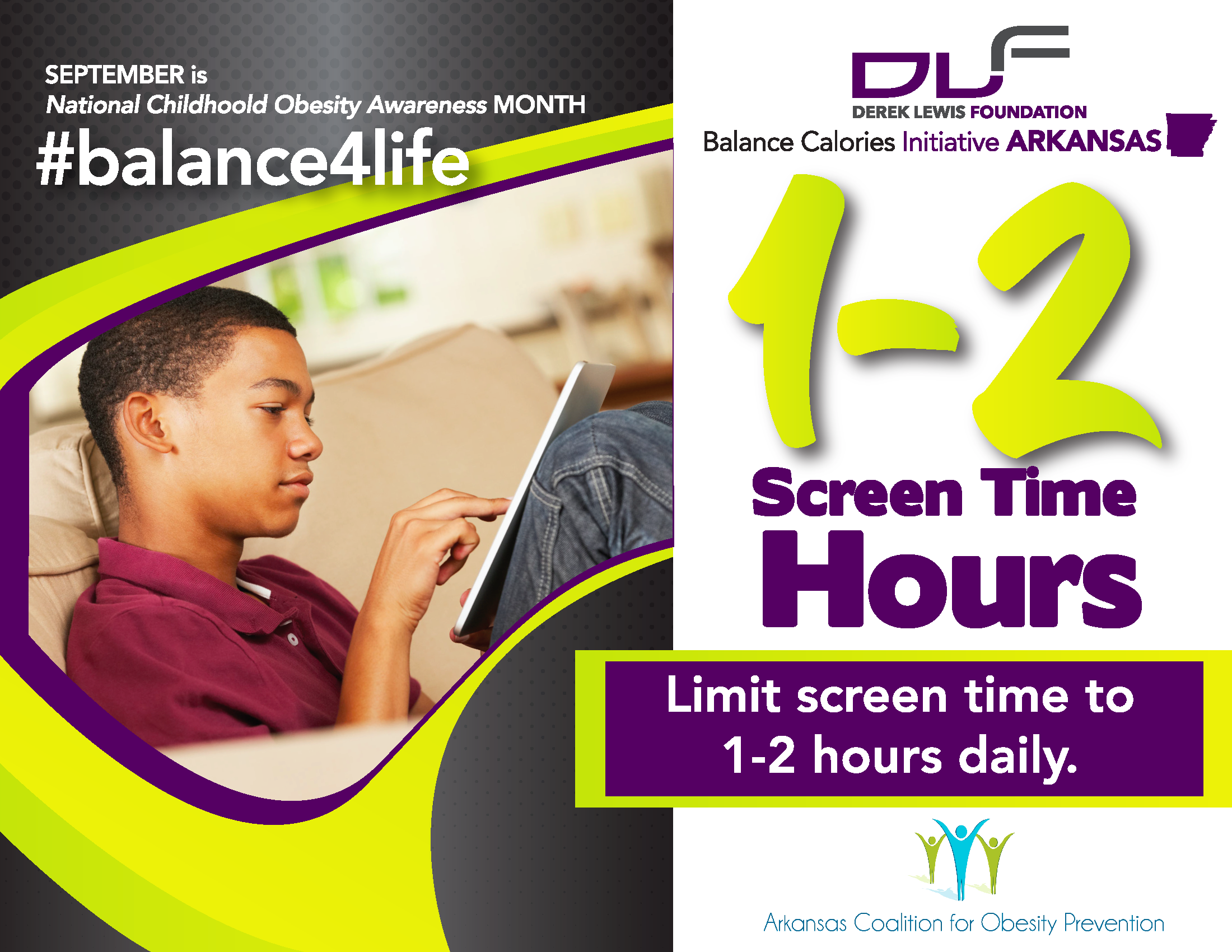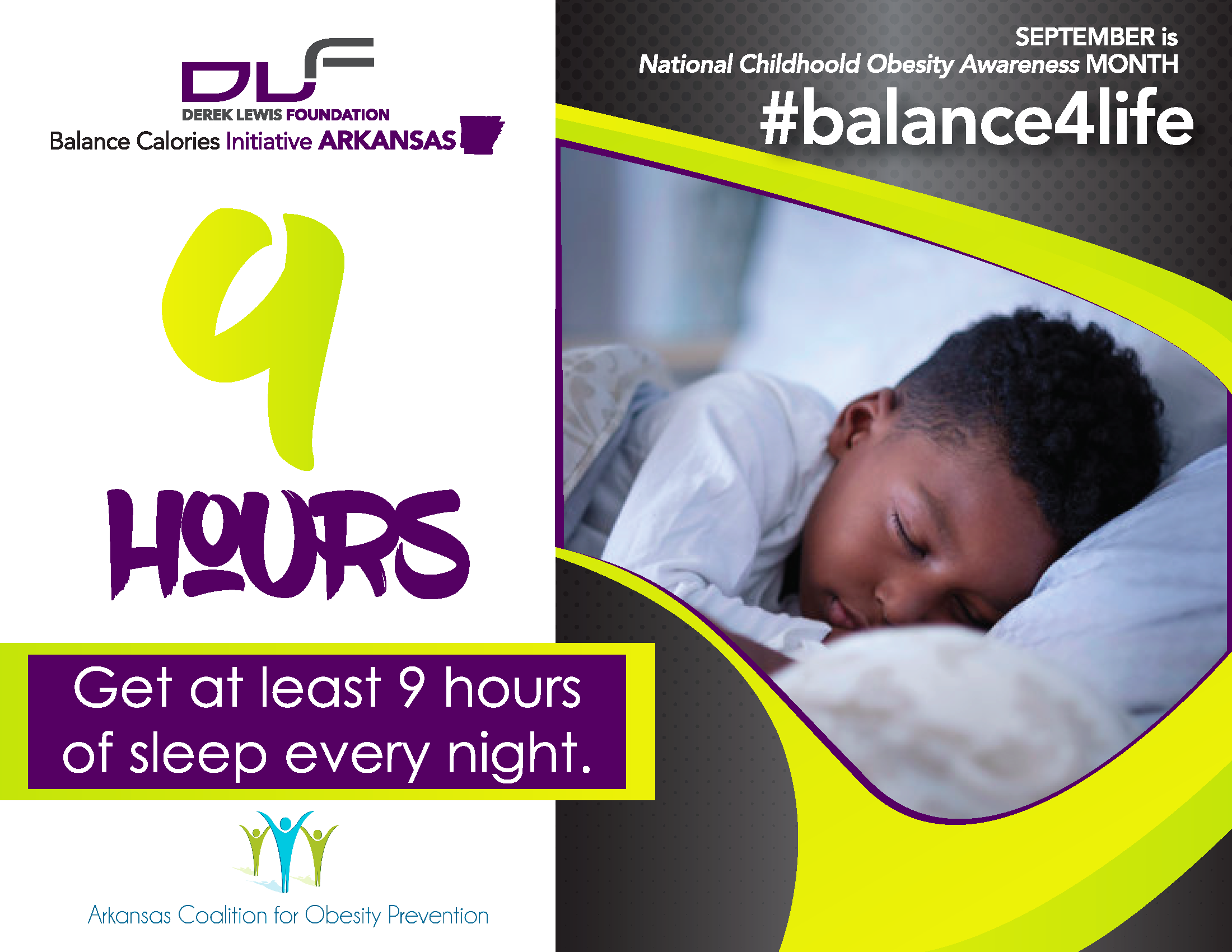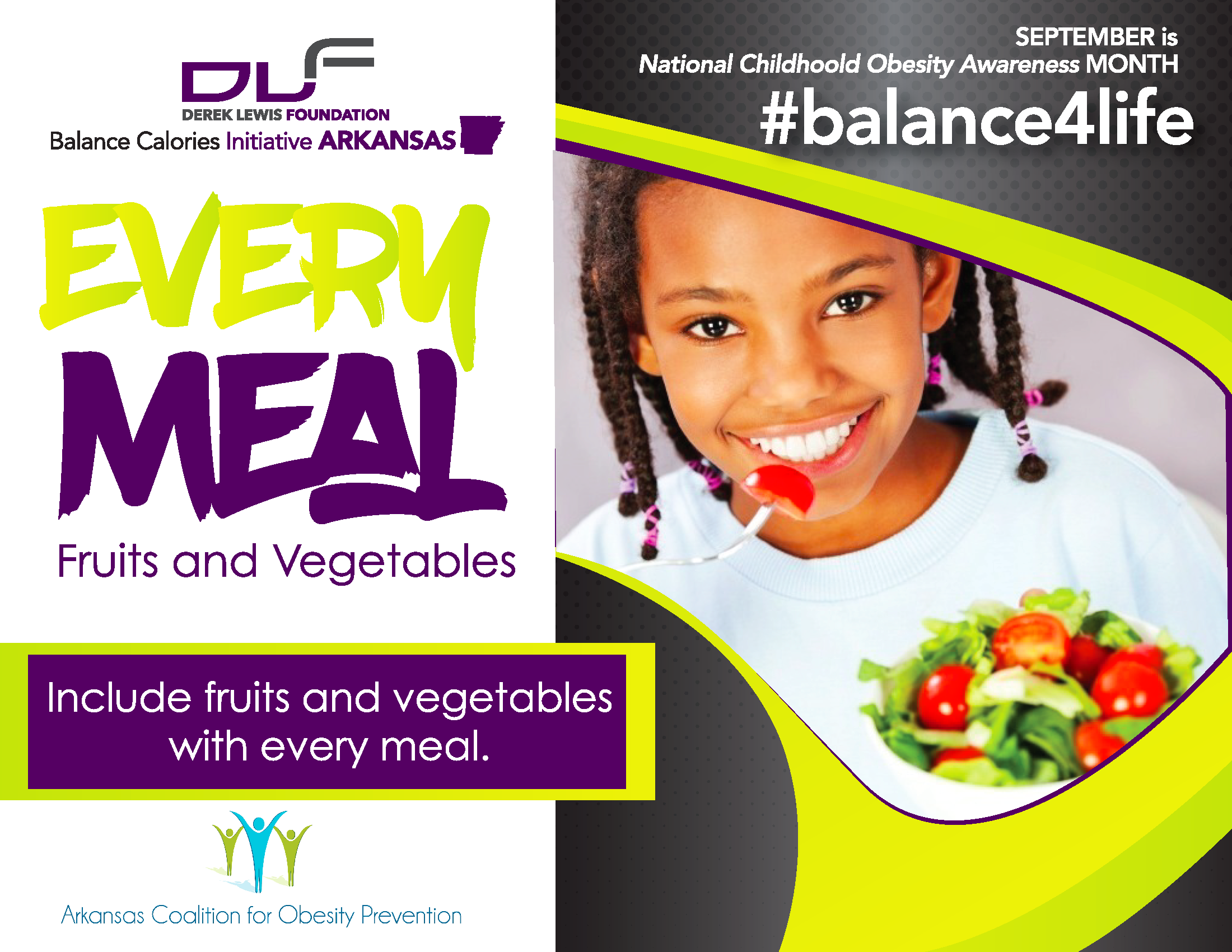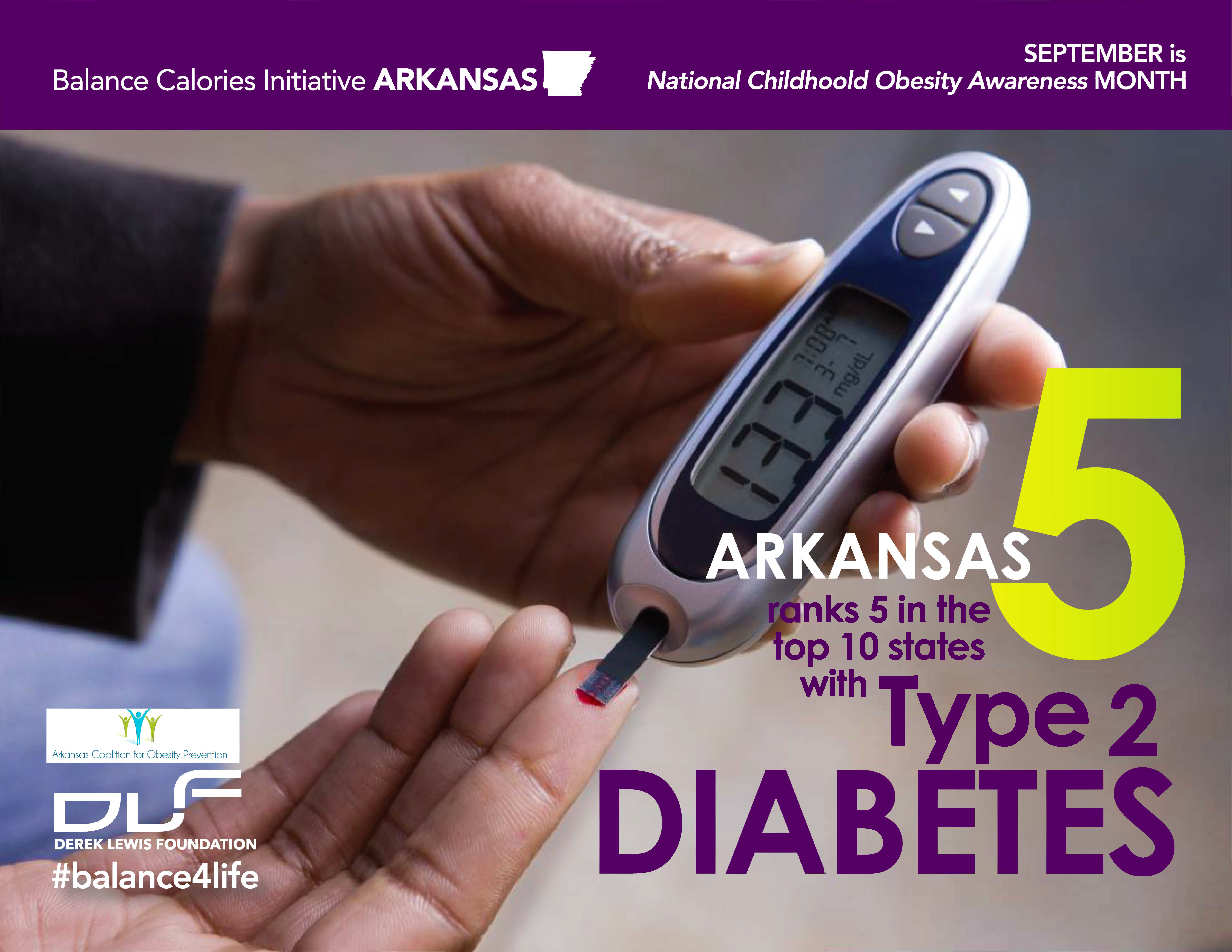 ---
ArCOP commends the American Heart Association
ArCOP commends the American Heart Association for establishing specific guidance concerning children's intake of added sugars. Reducing the amount of added sugars children consume is an effective way to make strides in reducing the childhood obesity epidemic.  We agree with the scientific recommendation that children under 2 should not consume any added sugars.  We also support the limits recommended for children ages 2 to 18.
http://news.heart.org/kids-and-added-sugars-how-much-is-too-much/
---
PARTNERSHIPS TAKE AFFORDABLE FOOD PROGRAM NATIONWIDE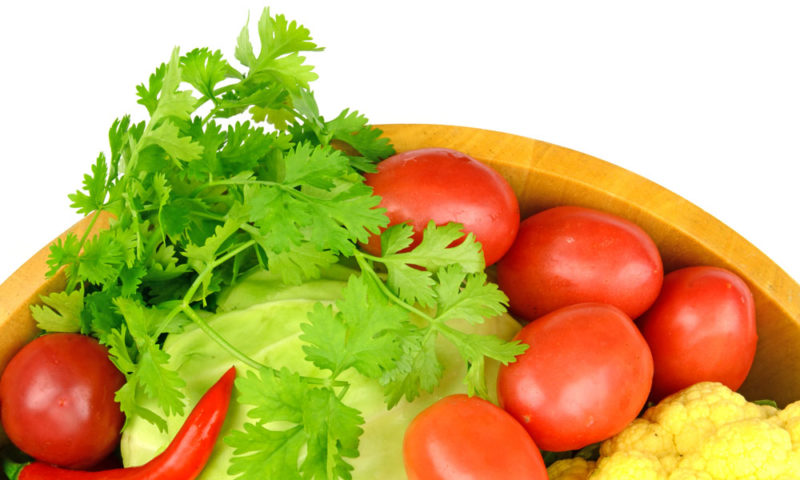 Through partnerships with local organizations, the national nonprofit Fair Food Network is expanding its program that increases accessibility to healthy food.
A program that helps low-income communities gain access to healthy food options is expanding across the country through local partnerships.
Last week nine states received federal funding to run the Double Up Food Bucks program, which the Fair Food Network originally started in Michigan to give individuals on the Supplemental Nutrition Assistance Program (SNAP) an extra dollar for every dollar spent—up to $20—at participating markets. The Network created the model so other organizations could then adapt it for their respective states, Program Director Noah Fulmer said.
The Arkansas Coalition for Obesity Prevention, which operates in the most obese state in the U.S., is running a pilot of the program with the funding it received. "This was a definite need to have something like this, and we know our lower economic folks in our rural areas and in our food deserts just don't have access to healthy affordable foods, and that's one of our main missions," ArCOP President Katrina Betancourt said.
ArCOP also runs a Growing Healthy Community program, which brings farmers markets to rural areas to make healthy, affordable food more accessible. The 18 SNAP eligible markets from this initiative will participate in the Double Up Food Bucks program through ArCOP, Betancourt explained.
Meanwhile, the New Mexico Farmers Marketing Associationintroduced Double Up Food Bucks as a pilot program in the state last year. With the new funding, NMFMA will expand it to 90 sites in the state, which has the third-highest level of child food insecurity in the country.
"We've got a lot of communities where there is just people struggling to stretch their food budgets every month, and we want as many as those people to be able to shop at farmers markets and other venues where there's locally grown food as possible," NMFMA Executive Director Denise Miller said. "Locally grown food should be something everyone can afford to purchase."
NMFMA engaged its member farmers markets to participate in the program, which will also help support the local farmers who grow fruits and vegetables. "This program really serves two masters in that it helps low-income people purchase more food, and it helps the farmers earn more revenue," Miller said.
The Network was able to expand its program by partnering with local organizations that can lead the effort and bring community leaders together, then by equipping them with a toolkit of materials and templates to adapt to each context, Fulmer said. Creating this standardized program model reduces the burden on farmers markets, ensuring that it will be successful.
Through the partnerships, the Network also provides technical assistance, answers questions about the program, and presents benchmarking data to its partners.
While NMFMA benefitted from the Network's adaptable marketing materials and templates, Miller said "having data that is comparable across states and across organizations" was most important to building policy and obtaining federal funding.
Betancourt said the availability of program data gave ArCOP a better sense of what to expect after launching the program.
The Network is currently supporting active Double Up Food Bucks programs in 19 states, along with similar programs in two additional states. Other states included in last week's second round of federal funding were Michigan, Ohio, Oregon, Utah, Texas, Arizona, and California.
ALEX BEALL
---
Arkansas to Launch Statewide Program Benefiting Low-Income Families, Farmers
GREENBRIER, Ark., June 8, 2016 /PRNewswire-USNewswire/ -- The U.S. Department of Agriculture awarded $94,000 to theArkansas Coalition for Obesity Prevention (ArCOP) to launch a healthy food incentive program in 19 farmers markets across the state, bringing more fresh produce to low-income residents while supporting local farmers. The grant was matched with$25,000 from the Walmart Foundation State Giving Program and other local support totaling more than $116,000.
The program, called Double Up Food Bucks, matches SNAP benefits (Supplemental Nutrition Assistance Program, formerly food stamps) spent at participating sites with additional funds that can be spent on locally grown fruits and vegetables. So if a family spends $10 in SNAP benefits at a farmers market, they get an additional $10 to buy more Arkansas grown fruits and vegetables.
"I am proud to support this project because it's a commonsense way to connect low-income families with healthy food options provided by local farmers," said U.S. Sen. John Boozman, a member of the Senate Agriculture Committee. "Increasing access to fresh fruits and vegetables creates a healthier community and economy. This is a win for Arkansas."
The program is expected to reach 188,000 residents across rural and urban communities—more than half of the state's SNAP-eligible population.
Arkansas has the highest adult obesity rate in the nation. Participating Double Up markets will target places of greatest need in the state, including areas with lowest life expectancy, high poverty rates, or limited food access.
Double Up was launched in 2009 in Michigan by national nonprofit Fair Food Network. It has since become a national model for healthy food incentives. This year, 19 states will have active Double Up programs in farmers markets, grocery stores, or both.
"Double Up is a proven success: low-income families eat healthier foods, local farmers make more money, and more food dollars stay in the local economy," said Katrina Betancourt, President of the Arkansas Coalition for Obesity Prevention, which will administer the program.
Program partners include Arkansas Hunger Relief Alliance, Arkansas Department of Human Services, Arkansas Department of Health, the University of Arkansas Cooperative Extension Service, and the Arkansas Farmers' Market Association.
Funding comes from the USDA National Institute of Food & Agriculture's Food Insecurity Nutrition Incentive grants program, which received bipartisan support in the 2014 Farm Bill.
"Double Up Food Bucks not only provides nutrition assistance, it also assists in expanding market opportunities for our producers and helps to put money back into our local economies," said Arkansas Secretary of Agriculture Wes Ward. "This is a solution that is working for Arkansas's families and farmers."
The Arkansas Coalition for Obesity Prevention (ArCOP) aims to making the healthy choice the first choice. The coalition's mission is to improve the health of all Arkansas communities by increasing physical activity and healthy eating to reduce and prevent obesity. www.arkansasobesity.org
---
Governor Asa Hutchinson Announcement
Keith Johnson, an intern with ArCOP, founded the UCA Roteract Club and is currently serving as the President. In 2016, the UCA Roteract Club was designated by ArCOP as an Emerging Growing Healthy Community. Congratulations Keith and the UCA Roteract Club! We are proud of your accomplishments and the leadership that you have shown in making your community a healthy place to live, work, play and learn.
---

New tools for a new era — America's cities, towns, and suburbs are rapidly changing and evolving, and transportation investments are playing a catalytic role in transforming communities. But all too often, major transportation projects are disruptive to the surrounding community, and frequently impact or even displace existing residents and businesses. A new resource from Transportation for America highlights creative placemaking, a movement that can lead to better projects and build relationships between the public and planners by using arts and culture to more genuinely reflect what makes a community unique.
2016 Walking College — Looking for a way to gain the skills and knowledge needed to make your community more walkable? America Walks is excited to announce the opening of applications for the second year of The Walking College. The Walking College is an interactive, online educational program for walkable community advocates. Learn more at an informational webinar on March 31 at 2:00pm EDT with Program Director Ian Thomas and several former fellows. Register to join >>.
Open Streets Toolkit — In order to assist communities of all shapes and sizes in moving forward with Open Streets, the Healthiest Practice Open Streets program has put together a comprehensive toolkit.  This kit includes information on how to get started, how to engage community partners and volunteers, how to create and use marketing tools, and more. 'Open Streets' are community-based programs that temporarily open selected streets to people, by closing them to cars. By doing this the streets become places where people of all ages, abilities, and backgrounds can come out and improve their health.
---