What's New
---
Go NAPSACC November
Go NAPSACC is impacting the health of Arkansas kids everyday.  Check out the latest news here.  If you'd like to find out more go to our Go NAPSACC webpage or contact our Health Education Coordinator Ashleigh Story.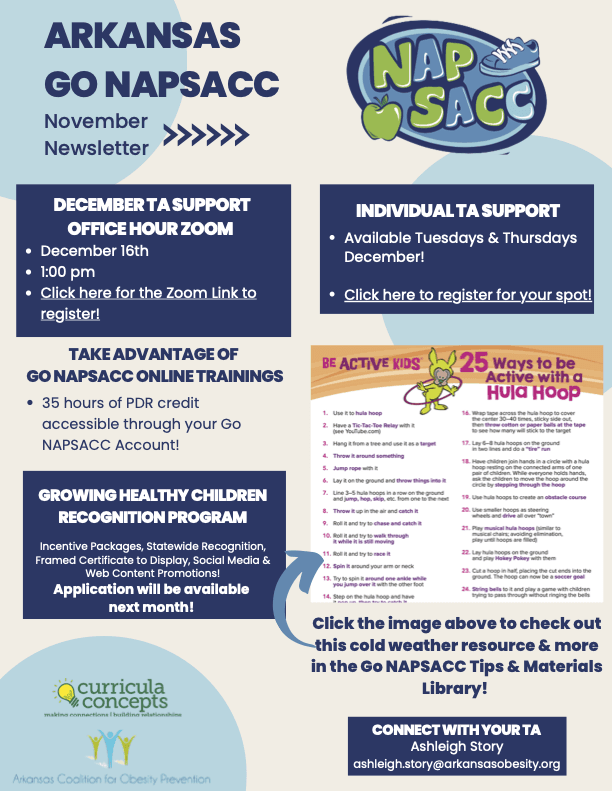 ---
Growing Healthy Children Recognition
Applications for our Growing Healthy Children Recognition Awards are now open. If you're a Go NAPSACC enrolled early childhood care provider we encourage you apply and get the recognition you deserve for make Arkansas's children healthier.  The deadline for this year's application is January 18, 2022. Go to the application page and get started today!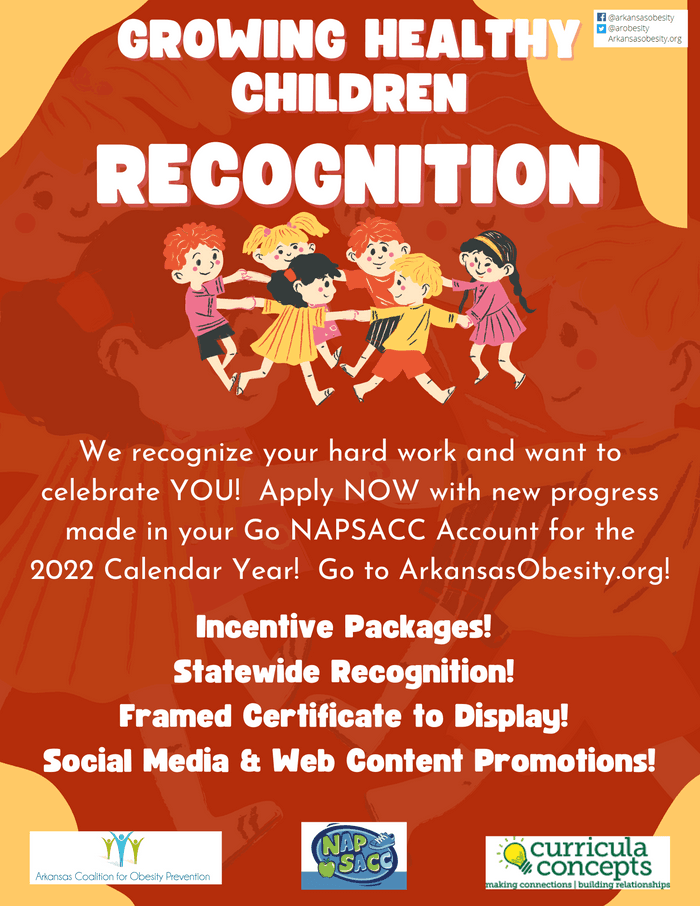 ---
Emotional Eating
Emotional eating is a problem most of us have to be wary of. What are the triggers that cause us to indulge when we're not truly hungry?  Use this list to get a better understanding of why you eat when your body doesn't need food.  Self-awareness is your best defense against overeating.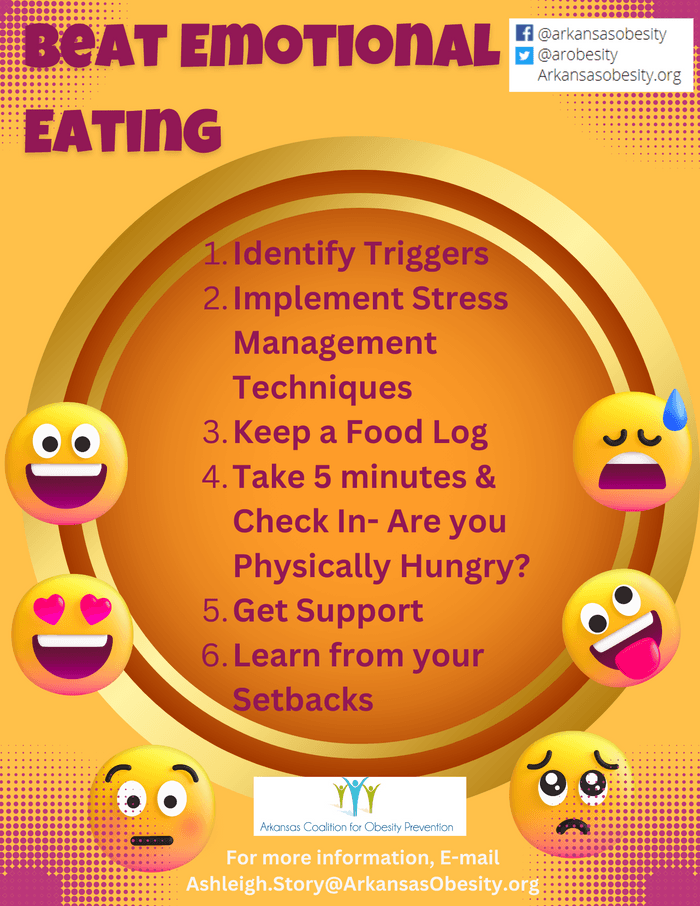 ---
Cardio: Moderate vs. Vigorous Intensity
Workouts don't have to be complicated, just completed. Here's an easy way to think about exercise every week. This helps us understand the intensity levels and amounts of aerobic activity needed to reach our goals.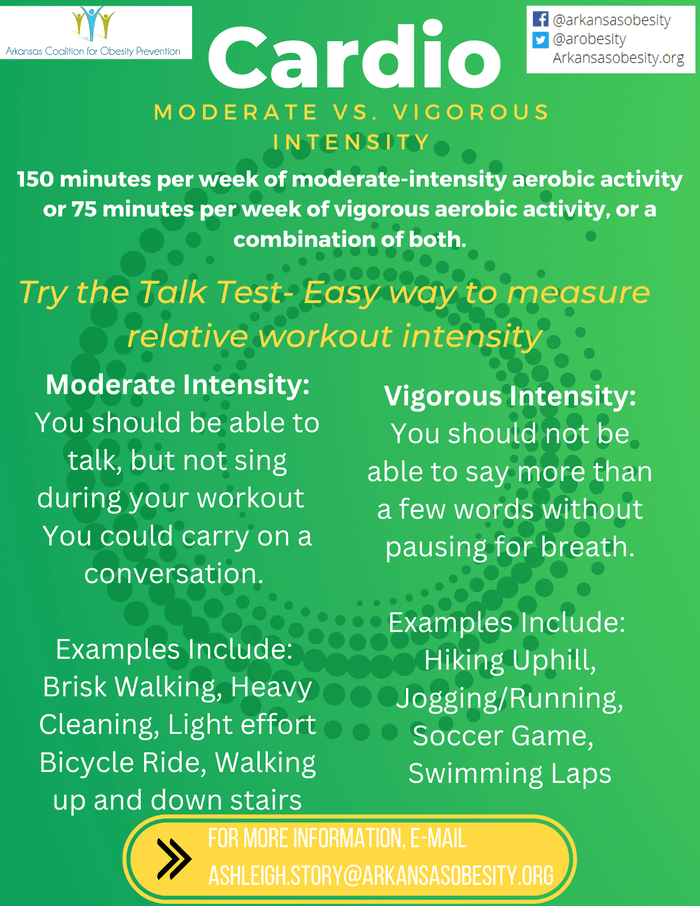 ---
Exercise Nutrient Timing
This is really useful info to have when you're thinking about exercise. When should you eat? What should you eat? If you're working hard to get healthy why not maximize your workout? Now get after it and start feeling better!
---
Chair Stretches
Stretching is a vital part of good health.  Here's some simple stretches you can do from home or in your office chair.  These take just minutes to do and you'll feel better the rest of the day.  Use each different stretch to target a different part of the body.  Focus on the neck, the shoulders, or your whole body.  Go to our Health Education Page to check out the companion video that goes with each stretch. Give these a try and we bet you'll make them part of your daily routine.  
Chair Stretching "Total Body Stretch"
Chair Stretching "Neck Stretch"
Chair Stretching "Shoulder Stretch"
---
Double Up Food Bucks at Bell Urban Farm
Here's a great example of Double Up Food Bucks in action.  Bell Urban Farm is a valued partner in our program.   Owner Kim Doughty-McCannon talks about why her Conway Farm Stand is proud to be involved and how it impacts multiple layers of the food chain.  Our Program Manager Jeremy Adams also weighs in on how Bell Urban Farm benefits their community through Double Up Food Bucks. 
---
Parking Lot Circuits
Don't have time to exercise because you're stuck at work? Here's a plan that will keep you active without leaving the parking lot. Try these circuits at lunch, before or after work. We've mapped out a Monday/Wednesday/Friday plan for you with these three circuits. Find a co-worker and get moving!
---
Better Together Parent Cafes
Here's a closer look at one facet of what we do. We've partnered with Curricula Concepts to implement the Better Together program here in the state. There are many ways we're empowering childcare providers to help kids make healthier choices (Go NAPSACC, Learning Collaboratives, and more). This video details Parent Cafes. It's an online gathering of trainers, providers and parents, but as you'll see, the true beneficiaries are the kids. If you've got questions or would love to see your childcare program be a part of this effort contact our Health Education Coordinator Ashleigh Story at Ashleigh.Story@arkansasobesity.org.
---
Healthy Food Swap: Greek Yogurt
Our Health Education Coordinator Ashleigh Story has some easy and tasty substitutions for you in her Healthy Food Swap videos.  Here's the lowdown on why greek yogurt should become a staple of your shopping list.  Check out more swaps on our Nutrition Education Page
---
"Market Talk" Ferndale Farmers Market
The Arkansas Farmers Market Association spent a hot Saturday morning at the Ferndale Farmers Market in extreme west Little Rock.  This growing community market has so much going for it, including an inside/outside venue.  You'll hear from Manager Sally Anderson on how the market got started and how it's helping create a sense of community in Ferndale.
---
Healthy Food Swap: Condiments
Here's another chance to get smarter and eat healthier.  In this "Healthy Food Swap" video our Health Education Coordinator Ashleigh Story has the lowdown on all those condiments taking up space in your refrigerator.  Are there better options? You bet.  Watch and learn how to make better choices. 
---
"Market Talk" Clark County Farmers Market
We ventured to Arkadelphia this week to check out the Clark County Farmers Market.  The Saturday market is small, but the selection is great.  In this "Market Talk" you'll hear from Floyd Alexander of Alexander's Market Playhouse about why they continue to grow and sell some of the best produce in the state.  He also addresses the damaging July  heat.  Plus, we get to know Erica Hughes from Terre Noire Farms a terrific pork vendor.
---
Healthy Food Swap: Cooking Oils
Check out this Healthy Food Swap... There are so many cooking oils available at the market, but which one is best for the job you need it to do?  Health Education Coordinator Ashleigh Story shows us which ones make the tastiest and healthiest meals.
---
"Market Talk" Little Rock Farmers Market
The Little Rock Farmers Market is embarking on its 48th year.  It's home in the River Market pavilion is a true destination for shoppers and tourists.  In this "Market Talk" we hear from the brand new Market Manager Molly Gallaher.  She's been a vendor at Arkansas markets for years, but couldn't resist the opportunity to get involved at one of the state's premiere venues.  We also spend a little time with another market institution, Uncle Willie of Carpenters Farmers Market Produce.
---
"Market Talk" Stone County Farmers Market
The Arkansas Farmers Market Association crew ventured to Mountain View to visit a market in its infancy.  The Stone County Farmers Market is just weeks old, but is finding its footing really fast.  This community has been without a regular market for almost five years.  Check out how they're doing in this edition of "Market Talk".
---
Arkansas Farmers Market Week Proclamation Ceremony
June 12-18th was designated as "Arkansas Farmers Market Week".  ArCOP's Arkansas Farmers Market Association was proud to accept Governor Asa Hutchinson's Official Proclamation on behalf of all state markets.  Agriculture Secretary Wes Ward spoke at the ceremony held at Saint Joseph's Farm Stand in North Little Rock and delivered the Proclamation to our Jeremy Adams.  Many area markets were in attendance to enjoy the proceedings.
---
2022 Arkansas Farmers Market Week
The Arkansas Farmers Market Association is proud to partner with the Arkansas Department of Agriculture's Arkansas Grown Program to promote the state's "Farmers Market Week" June 12-18th.  Traditionally, the week has been observed in August.  In this short video we hear from Karen Reynolds of Arkansas Grown and Jeremy Adams of the AFMA.  They explain the reasons for moving the celebration to earlier in the year and provide details on the Governor's Proclamation that will make the move official.
---
"Market Talk" Jacksonville Farmers Market
The Jacksonville Farmers Market has first rate facilities and a perfect location, but last year they operated as a Sunday market and enjoyed only mixed success.  This year they are trying a Saturday afternoon window to bring in more vendors and shoppers who can't make other area morning markets.  Hear all about it in this "Market Talk."
---
"Market Talk" Greenbrier Farmers Market
The Greenbrier Farmers Market is just in its second year and in its second location, but the community is already embracing what their local market has to offer.  They've got dedicated and experienced vendors and the support of local government.   In this "Market Talk", we find out that the rapidly growing city of Greenbrier now has a Farmers Market that will grow right along with it. 
---
"Market Talk" Paragould Farmers Market
The Arkansas Farmers Market Association was in Northeast Arkansas for this week's edition of "Market Talk".  The Paragould Farmers Market has some exciting changes ahead.  We'll hear about their new facilities, the help they've gotten from another nearby market, and the use of T-shirts as a vendor benefit.
---
"Market Talk" Hillcrest Farmers Market
The Hillcrest Farmers Market has a unique niche in Little Rock.  It was conceived and is operated by Pulaski Heights Baptist Church.  In the decade since it's inception, they have become an irreplaceable fixture in their community. Among the things we hear In this edition of "Market Talk" is the underlying philosophy that's garnered so many loyal customers and vendors.
---
An Inside Look at the Arkansas Walking College
The Arkansas Coalition for Obesity Prevention has partnered with America Walks and the Arkansas Department of Health to create the state's first-ever Arkansas Walking College.  In short, the goal of the program is to find and develop advocates to help make our communities more walkable.  The first graduating class of Fellows (students) wrapped up their training recently.  We were there to see how it works and why everyone involved shares a common vision and passion.
---
"Market Talk" Ray 5 Farm
We went down on the farm for this edition of "Market Talk".  Troy and Amberlee Ray operate Ray 5 Farm (although they do get plenty of help from the kids too). They are vendors at the Historic Downtown Hot Springs Farmers Market.  Here they talk about the challenges and gratification of farming and selling at market.  It's said Arkansas grows the best, because we have the best growers.  We think the Ray family is a pretty good example of just that.
---
2022 Double Up Food Bucks Locations
Here are our 2022 Double Up Food Bucks locations. Some fabulous farmers markets, farm stands, and many new grocery locations all over Arkansas. SNAP users can check out the map below to find one close by.  Please go to our Double Up Food Bucks page to find out more how the program works. The program runs from May 1st until October 31st.  
---
Go NAPSACC in Action
Go NAPSACC is making a healthy difference in the lives of Arkansas children.  Childcare providers across the state are using this free online program to instill better eating habits and encourage physical activity.  We followed ArCOP's Health Education Coordinator and statewide TA Ashleigh Story as she visited Family First Childcare in Greenbrier, Arkansas to see why Go NAPSACC is such a powerful tool.
---
2022 Arkansas Farmers Market Association Annual Meeting Video
Thanks to everyone who participated in the Arkansas Farmers' Market Association's Annual Meeting.  We had a record number of registrations for the planned in-person meeting this year, unfortunately the weather forced us to take the event online via Zoom.  The good news is many of you were able to take part from home.  
Among the topics covered were the Food Freedom Act, market tools and resources provided by the Arkansas Department of Agriculture, and Double Up Food Bucks.  These presentations can be found separately here. 
---
2022 Meeting of the Members
The 2022 Annual Meeting of the Members was held online January 24th. If you were unable to join us live on Zoom, here we're providing video of the gathering in it's entirety.  It's never too late to ask questions about any of the content from the meeting, so please feel free to reach out directly to any of the presenters.  
---
Our Latest Healthy Recipe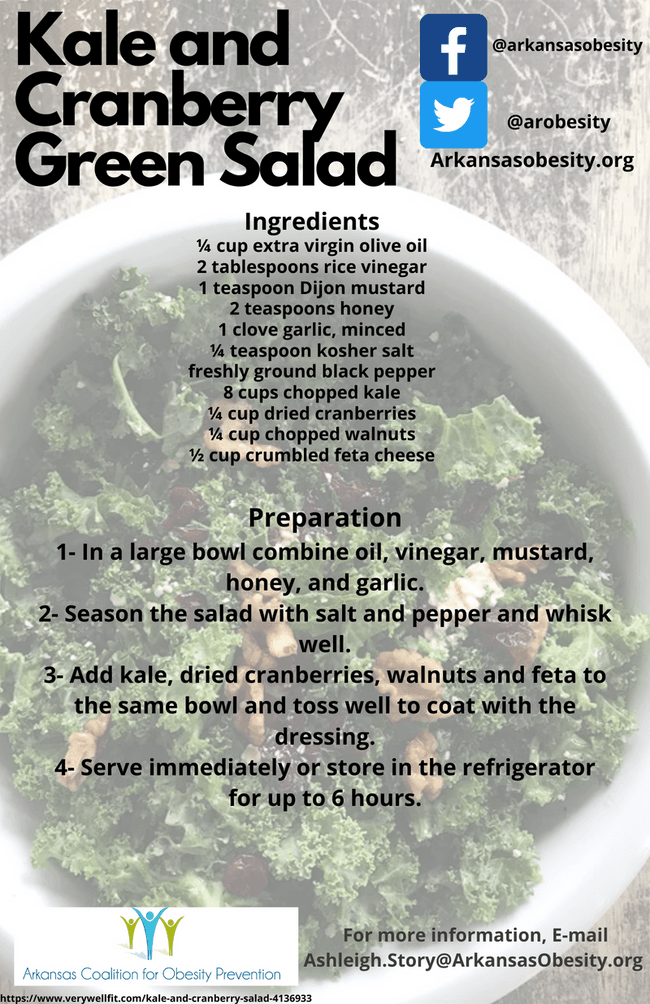 To see other smart food ideas visit our Healthy Recipes page.
---
Fair Food Network Visits Arkansas
Policy Director Mark Nicholson and Director of National Partnerships Noah Fulmer of the Fair Food Network visited Arkansas in early October to see how Double Up Food Bucks is working to better outcomes across the state. Here we learn a little bit more about how ArCOP and the Fair Food Network work together to make DUFBs so effective.
---