Market Resources and Guidelines
---
2023 AFMA Annual Meeting Video on Food Freedom Act from Jeff Jackson
Jeff Jackson of the Arkansas Department of Health discussed  "Selling at Farmers Markets: Tips for Success".  He outlines what can and can't be sold at markets.  Plus, the requirements of the Food Freedom Act were also outlined.  Jeff welcomes any questions about this topic through his email jeff.jackson@arkansas.gov.
Jeff Jackson 2023 AFMA Meeting
---
2022 Farmers Markets Accepting WIC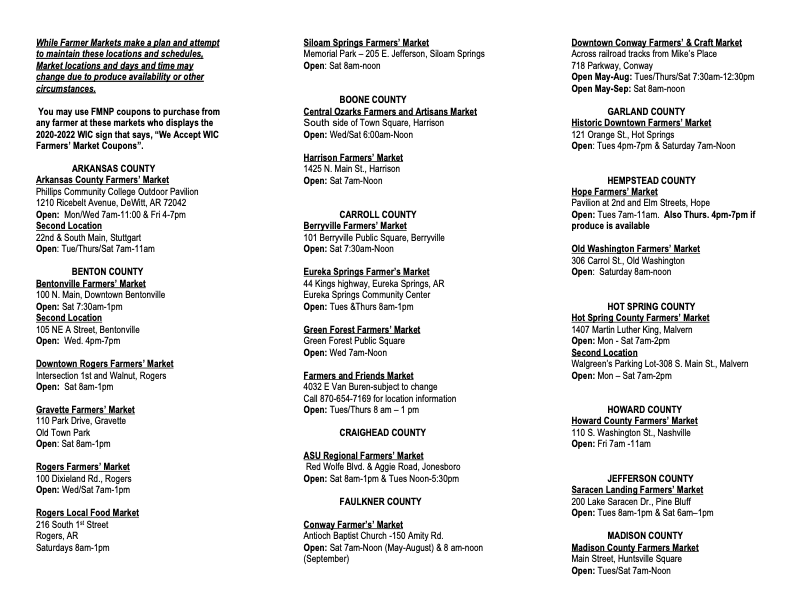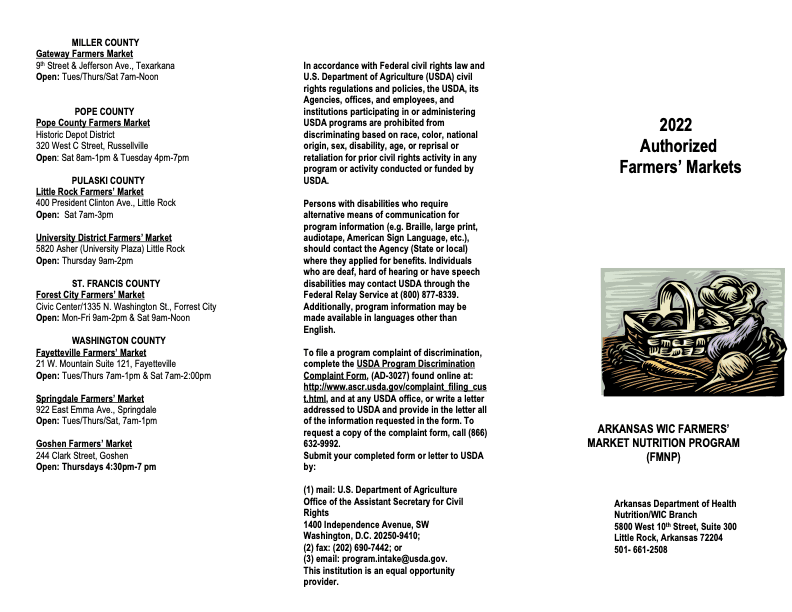 ---
Arkansas Food Freedom Act of 2021
Here's information on the new Arkansas Food Freedom Act of 2021.
The new law took effect July 28, 2021. It replaces the state's Cottage Food law, which allowed a few specific homemade food products to be sold directly to consumers without being made in a kitchen certified and inspected by the Arkansas Department of Health.
The Food Freedom Act allows direct sales of homemade food and drink products that do not require time or temperature controls to remain safe and updates labeling requirements. Click the link to read more
https://www.uaex.uada.edu/business-communities/local-foods/AR-food-freedom-act.aspx
Fact Sheet from U of A Division of Agriculture Extension:
https://www.uaex.uada.edu/publications/pdf/FSPPC318.pdf
Full Guidelines here:
https://www.healthy.arkansas.gov/images/uploads/pdf/Homemade_Food_Guide_FINAL.pdf
---
Arkansas Grown and Made
In this video presentation from our 2022 Annual AFMA meeting Karen Reynolds discusses the many tools and resources the Department of Agriculture provides to markets and growers. Lots of good information on Arkansas Grown and Arkansas Made.
---
Farmers Market Legal Toolkit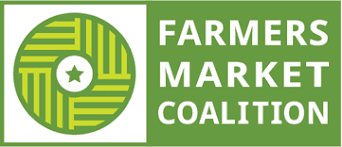 This resource is provided by the Farmers Market Coalition.  The Farmers Market Legal Toolkit includes legal resources, best practice recommendations, and case studies for market leaders on selecting and enhancing business structures, accepting SNAP benefits, and managing common risks.  Click the link to access information. 
---
COVID-19 Guidelines Spring 2021
The information in the images below contain the latest guidelines from Arkansas state agencies on COVID-19 practices and policies at Farmers Markets as of Spring 2021.  More information can be found through this link  https://www.uaex.uada.edu/business-communities/local-foods/covid19-resources/farmers_markets.aspx
We will update these guidelines as they evolve.  
Spring 2021 COVID Guidelines
---
Resources and Information
Farmers Market Coalition: https://farmersmarketcoalition.org/farmers-markets-covid19/
Arkansas Department of Agriculture: https://www.agriculture.arkansas.gov/coronavirus-disease-2019-covid-19-resource-information/
State by state list of SNAP waivers: https://www.fns.usda.gov/disaster/pandemic/covid-19/snap-waivers-flexibilities
Fair Food Network COVID response: https://fairfoodnetwork.egnyte.com/dl/nimZHlnzax/
FNS Actions to Respond to COVID19: https://www.fns.usda.gov/disaster/pandemic/covid-19
Best Practices Resources
 Produce Safety - COVID-19 Health and Hygiene Practices
Finding a Local Grower
Map of Food Access in Arkansas
Farmers Market Coalition Webinar on Physical Redesigning Markets During COVID-19 Crisis
Information on Direct Sales Software Platforms 
Uplift Arkansas:  A Resource for Supporting Local Businesses 
---