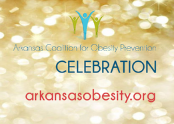 We are celebrating another amazing year for ArCOP! We want to celebrate all of the hard word and dedication Arkansas communities have made to move the needle from number one most obese state in the nation down to number six!
At this year's celebration we will recognize the accomplishments in our state and on the local level in 2016. We are at an all-time high with 64 Growing Healthy Communities. We awarded project grants to 37 communities for activities that support the Healthy Active Arkansas agenda. We awarded 18 Farmers Markets with grants to initiate Double Up Food Bucks (DUFB) program for SNAP beneficiaries. ArCOP has initiated a complete streets campaign in five GHC, developed a refrigerator curriculum for our Growing Healthy Schools, developed a training to fund 10 Growing Healthy Worksites to implement lactation accommodations, passed 15 tobacco policies in GHC, and been awarded to fund a Growing Healthy Youth initiative in 19 Delta Counties. It has been a busy 2016 and we are looking forward to even greater accomplishments in 2017.
This year ArCOP will have a silent auction with many great items! If you would like to donate an item to the auction to represent your organization, coalition or community please contact katrina.betancourt@arkansasobesity.org.
Stay tuned for more details!